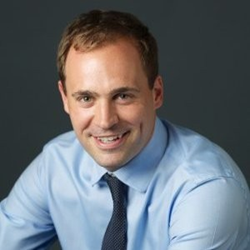 I believe that big things lie ahead for Starlight.
Los Angeles, California (PRWEB) October 20, 2016
Starlight Children's Foundation, a US-based nonprofit whose mission is to brighten the lives of seriously ill children and their families, today announced that Christopher Helfrich has joined the organization as its new Chief Executive Officer. Helfrich will be based in the Los Angeles office of Starlight and assumes leadership of the 34-year old children's health charity on November 1, 2016.
"We're thrilled to welcome Chris as the new CEO of Starlight Children's Foundation," said David K. Haspel, Chairman of the Starlight Board of Directors. "His experience in leading and growing high impact campaigns that positively affect millions of children translates perfectly to Starlight. Chris will lead the organization as we grow the size and scope of Starlight programs towards the goal of ensuring that all seriously ill and hospitalized children in America are still able to experience the laughter, fun and joy of childhood."
"Starlight has a great history of providing critical support to millions of seriously ill children and their families," Helfrich remarked. "This is an incredibly important task, and I look forward to working with the Starlight team and our nearly 800 community partners to grow the scope and impact of our innovative programs. I believe that big things lie ahead for Starlight."
Helfrich brings extensive experience in program development, innovation, fundraising and nonprofit management to Starlight. He joins the organization from the UN Foundation where he spent over five years at the helm of Nothing But Nets, the world's largest global, grassroots campaign to defeat malaria. Since its founding in 2006, Nothing But Nets has raised more than $60 million and delivered nearly ten million life-saving bed nets and other malaria interventions to families in over 30 countries, helping to cut global malaria deaths by 60%.
Prior to Nothing But Nets, Helfrich served as the Director of Development and Marketing at Public Citizen, a national, public interest advocacy organization in Washington DC. He has also served as Director of Development at public radio stations in San Antonio, Texas, and Charlotte, North Carolina, and as a fundraiser at Davidson College during their $270 million capital campaign, Let Learning Be Cherished.
Helfrich is a graduate of Trinity University, in San Antonio, Texas. He and his wife, Kate, live in Santa Monica with their three children, Grey, Leo and Clara.
About Starlight Children's Foundation
Starlight's mission is to brighten the lives of seriously ill children and their families by turning pain, fear and stress into fun, joy and laughter – because a sick kid is still a kid at heart. Founded in 1982 Peter Samuelson and Emma Samms, Starlight has helped more than 60 million sick children in the US, Canada, Australia and the UK by providing programs that offer the best in entertainment, education and innovative technology. Steven Spielberg serves as the organization's Chairman Emeritus. Learn more at http://www.starlight.org and follow Starlight on Instagram and Facebook at /StarlightChildrensFoundation and on Twitter @StarlightUS.