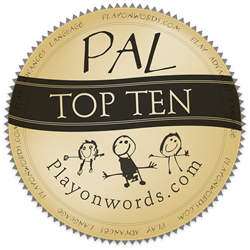 PAL Awards demonstrate our ongoing commitment to offer products that are both exciting and help advance vital skills like language development
Elkhart Lake, Wisconsin (PRWEB) October 20, 2016
Regular interaction with children guides Playonwords founder, Sherry Artemenko, to a unique set of the best toys, games, books and apps that have the chemistry to develop language while delivering great play. Today, Playonwords is announcing the "Top 10 PAL Picks of 2016" by age and product category. Our Top 10's take the guesswork out of gift giving for the holidays. Parents and grandparents are using our list to shop for smart toys with lasting play value.
Each product has been assessed and reviewed by Sherry with input from parents, kids and educators. Observing play in action, combined with her critical eye for language potential, Sherry awards products and writes insightful reviews offering practical tips on how to maximize the educational value in each winner on playonwords.com.
Language catalyzing PAL winning toys and games are powerful additions to a child's learning tool box, since children learn through play, and language is integral to learning! Our 2016 Top 10's include a number of great winners that inspire physical building to match rigor in story planning, creation, revision and presentation. Whether constructing the "Wonderhood Grand Hotel" or K'NEX's "Mighty Makers Director's Cut" stage, kids are positioned to strengthen cognitive foundations for reading, writing and overall literacy. Also enhanced are skill sets related to vocabulary, memory, association, deductive reasoning, prediction, dialogue, narration and emotional IQ, through games that encourage language like "Wonder Forge's Dr. Seuss Thing Two Thing One Whirly Fun Game," EQtainments' "Q's Race to the Top" or Tiggly's "Tiggly Shape's Got Talent."
Sherry's expertise has been tapped by NBC Connecticut TV, FOX TV News 6 Milwaukee, Parents Magazine, The Chicago Tribune, San Francisco Chronicle, parents.com, parenting.com, mom.me, ASHAsphere (official blog of the American Speech Language Hearing Association), and ASHA LEADER magazine.
For Sherry, great play is not just about fun, or language development, it's about going deep on both. Her expertise has been built on science and more than 17,000 hours of client experience. Each set of Top 10's represents a breadth of themes and genres, but they all have one thing in common - they are trusted lists of fun products that boost learning through play.
Here are 2016's Top 10 PAL Picks:
Top 10 Toys: Infant

Beary Rumples by Rumple Buddies
Crinkle and Roar Lion by VTech
Dancing Crab Set by Fun Flex
Frog Mirror Set by Fun Flex
Kaloo Les Amis Medium Cookie Leopard
Kaloo Rouge-Medium Bear-Sandy Beige
Kaloo Rouge-Medium Rabbit-Cocoa Brown
Kathe Kruse Monkey Carlo Towel Doll
NogginSeek Peek and Seek Rattle by SmartNoggin Toys
On the Moove Activity Bar by VTech
Top 10 Toys: Toddler

ALEX Toys My First House Activity Cube
Count and Learn Turtle by VTech
Janod Baby Forest Shapes-Caterpillar
Janod Zigolos Elk and Fox Looping Stacker and Rocker
Janod Zigolos Hen's Activity House
Jungle Train Journey Set by Hape
Kaloo Les Amis Rocking Donkey
Mon Premier Bebe Bisou by Corolle
My First Crayola Mess Free Sand Scribbler
Pull Along Cat by Bigjigs Toys Ltd
Top 10 Toys: Preschool

ALEX Toys Ready, Set, Bodies
ALEX Toys Ready, Set, Dinos
Baby Amaze 3-in-1 Care and Learn Stroller by VTech
Brio Countryside Horse Set
Fire Station Train Set by Bigjigs Toys Ltd.
Go! Go! Smart Friends Enchanted Princess Palace by VTech
Janod Doctor's Suitcase
Janod the Fantastic Castle
Large African Safari by Playmobil
Ring & Learn Cash Register by VTech
Top 10 Games: Preschool

Cheese Stack by Getta1Games
Disney Jr The Lion Guard Boulder Burst Game by Wonder Forge
Friends and Neighbors by Peaceable Kingdom
Janod Pleximemo Farm Memory Game
Memory Palace by Peaceable Kingdom
Ravensburger Buggaloop
SmartGames Little Red Riding Hood by Smart Toys and Games
Tell-A-Tale by Getta1Games
Tiggly Shape's Got Talent by Tiggly
Wonder Forge Dr. Seuss Thing Two and Thing One Whirly Fun Game
Top 10 Toys: School Age

Better Builders Emotions by Guidecraft
Bluebee Pals by Kayle Concepts
Calafant Medium and Large Sets by The Haywire Group
Creativity Castle by Build and Imagine
Folkmanis Monarch Life Cycle
Little House on the Prairie 18" Laura Ingalls Doll and Accessories by The Queen's Treasures
Mighty Makers Director's Cut Building Set by K'NEX
Ravensburger Smartscope
Space Rocket with Launch Site by Playmobil
Wonderhood Grand Hotel Creative Building Set
Top 10 Games: School Age

Alphabet Woods by SimplyFun
Anomia Party Edition by Anomia Press
Bring Your Own Book by Gamewright
Compound It All! by Lee and Low Books
Crazy Letters by Mindware
Memory Yoga by ThinkFun
Q's Race to the Top by EQtainment, LLC
Ravensburger Hundreds of Horses
Rory's Story Cubes: Scooby-Doo by The Creativity Hub
Suspicion Game by Wonder Forge
Top 10 Books and Media

Ada's Violin by Susan Hood and Sally Wern Comport
Daniel Finds a Poem by Micha Archer
Last Stop on Market Street by Matt De la Pena and Christian Robinson
Leaps and Bounce by Susan Hood and Matthew Cordell
Little Scholar Mini by School Zone Publishing
Once Upon A Sign: The New Three Little Pigs by DawnSignPress
Parachute by Danny Parker and Matt Ottley
Playroom Prep by Rosalyn Kemp
Q's Wild Ride CD Storybook by EQtainment LLC
Rain Fish by Lois Ehlert
Each holiday season, millions are spent on kids' toys, games and books. These PAL winners above are not only great fun but also encourage rich language development. Think "tastes like ice cream, fortifies like spinach," optimizing your toy purchases to build language while maintaining all the fun. Now's the time to be intentional about your child's toy chest, game drawer, bookshelf and tablet!
About Playonwords, LLC
Playonwords.com was founded by well-respected speech-language pathologist, Sherry Artemenko. Her 35 years championing language rich play, esteemed PAL Award, popular blog, and insightful tips to parents set her apart as the leading advocate for the language component in toys.
Over 17,000 hours working directly with children has shown her that a unique set of the best toys, games and books have the capability to develop language while delivering great play. Studies show:
Kids with highest IQs at three, had the most words at one and two
Language learning is cumulative – early words => early sentences => language & reading
Most kids maintain their verbal advantage through childhood
Creative pretend play that sparks story-telling can advance future literacy
Sherry established the PAL Award to identify unique toys, games and books that through their design, quality and character, encourage play that advances language. PAL winners in the hands of kids, spark fun and creative play with lots of talk. Such toys, recognized on the basis of her child development expertise, are complemented by practical coaching in her blog, showing parents and caregivers how to get the most from toys, games and books to build language and underlying cognitive skills.