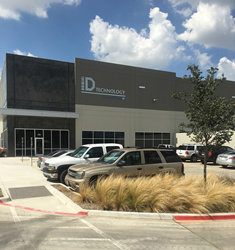 Dallas / Ft Worth, TX (PRWEB) October 19, 2016
ID Technology powered by Pro Mach, a leading provider of labeling, coding and marking solutions, moved its headquarters to 5051 N. Sylvania Avenue in Fort Worth, TX on Monday, September 26.
The new building doubles capacity over their current facility and will house manufacturing, label converting operations and a state of the art training and demonstration area.
One of four manufacturing plants and one of six converting facilities in North America, ID Technology's new headquarters will include administrative, engineering and manufacturing personnel. With 17 sales and service offices located throughout North and Central America, ID Technology employs more than 370 people. Their growth has been spurred by investment in local support and a rise in newly formed strategic account partnerships.
Alan Shipman, President of ID Technology, says "It's an exciting time for us. We have outgrown our current building and look forward to a new and expanded facility to better serve our customers. In addition, both customers and our employees will enjoy the technology enhancements made."
"Our focus has been to provide our customers with unrivaled sales and service support that extends beyond the initial sale," says Shipman. "The results have been nothing but positive, and I look forward to continuing to build on our customer-first culture in the new headquarters."
About ID Technology
ID Technology designs, manufactures and integrates custom identification systems and is recognized as a leading single-source provider for labeling, coding and marking equipment, expertise, service and supplies. ID Technology is based in Fort Worth, Texas and operates 17 regional offices across the United States and Canada. For more information or to locate one of the ID Technology nationwide sales and service centers, call 888.438.3242 or visit our website at http://www.idtechnology.com.
About Pro Mach
Pro Mach is a leading provider of integrated packaging and processing products and solutions for food, beverage, consumer goods, pharmaceutical, and other diverse companies. Through its brands, Pro Mach provides product packaging and processing equipment, PMMI certified training, installation, parts, and service in Bottling & Capping, Primary Packaging, Flexible Packaging, Material Handling, Identification & Tracking, and End-of-Line Packaging.
Pro Mach has a diverse customer base, from Fortune 500 companies to smaller, privately-held businesses worldwide, which depend on reliable, flexible, technologically advanced equipment and integrated solution sets. Pro Mach is headquartered near Cincinnati, Ohio, with manufacturing facilities and offices throughout the United States, Canada, and Europe. For more information about Pro Mach, visit http://www.ProMachInc.com.