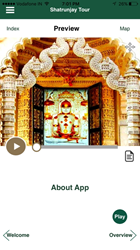 A visitor, Aishwaria Shah commented "​I took my children to Palitana to climb Shatrunjay. The app was a great help in explaining Jainism, tirthankars, and historical events to my kids. There were many stories that I had forgotten as well."
Barrington, RI (PRWEB) October 22, 2016
Action Data Systems announced a Tour Guide and a Bhav Yatra mobile app for Jain temples of Shatrunjay, Palitana in India.
Entrepreneur, Ushma Shah​ from Barrington, RI​, ​has​ ​created and launched a beautiful mobile app for Jains​ and tourists alike​ called "Shatrunjay Yatra." The app has spiritually inspiring stories of Shatrunja​y hills​ ​including ​​audio ​and ​visuals​ to help identify landmarks.​
When a tourist climbs Shatrunjay hills, he comes across hundreds of temples, shrines, footprints and many other religious ​artifacts​. However, very few people know their stories, history or significance. Even Pujaris or administrators do not know much. ​Taking books up is very inconvenient and not practical. A couple of years ago, Ushma's family had a lot of trouble ​finding ​information while ​hiking​ up. That is when the idea of a mobile App was born. Ushma's team worked hard, studied several books, talked to many scholars and got opinions from religious leaders. The app has over 100 points of interest, eleven maps for navigation and several Jain Hymns.
Available in Gujarati ​&​ English and full of pictures, text, audio and music, the apps are useful for:
1. Bed time ​Jain ​stories for children
2. Virtual Bhav yatra for ​senior citizens
3. As a visitor's ​tour ​guide for ​all travelers​​
The app​s​ ​are available for $​ ​2 ​worldwide ​or Rs 100​ in India on the app stores:​​​
Click here for Apple App
Click here for Android App
Buy and distribute ​app enabling passwords to friends as Jain ​Prbhavana giftcard
​
​Download the app today and enjoy this religious, educational, modern and entertaining tour either at home or at Shatrunjay.
About Action Data Systems
Action Data Systems is headquartered in Barrington, Rhode Island with a regional office in Mumbai India. Action Data Systems helps museums, attractions​, religious places​ and bus tour operators to create Apple and Android tour guide apps to increase tourist engagement, improve ratings & reviews and generate new revenue from mobile e-commerce.