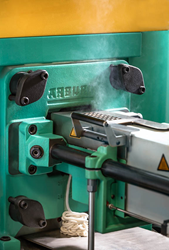 Howell, Mich. (PRWEB) October 24, 2016
Chem-Trend, a global leader in the development and production of high-performance purging compounds, release agents and other ancillary molding products, today announced the addition of Lusin® Clean 1100 to its broad line-up of high-performance purging compounds. Lusin® Clean 1100 is a universal purge compound developed specifically for providing a cost reduction in engineering plastics processing.
The new product is designed to make the color and material change process for injection molding machines more efficient, with early results showing the use of Lusin® Clean 1100 reducing the number of parts required to make a complete switch in color or material by up to 35 percent. A reduction in scrap of over 90 percent has been achieved by users of Lusin® Clean 1100 during the initial evaluations of the product. Beyond the improved cleaning performance, the new product has also been designed to produce less smoke and lower odor than products currently on the market, helping to improve working conditions within thermoplastic processing facilities.
Lusin® Clean 1100 is suitable for polyolefins and engineering plastics such as ABS, PS, SAN, ASA, PC, PC/ABS, CA, PMMA, POM, PET, PBT and PA. The newly developed purging compound is stable at temperatures up to 320° C / 608° F, and is safe and effective for use in screw and barrel assemblies, hot runners and gates. As an additional benefit, Lusin® Clean 1100 is extremely easy to remove from all metal surfaces, adding to the overall potential efficiency gains offered through use of the product.
For more information on Chem-Trend's Lusin® purging compounds or other Lusin® products for thermoplastics processing operations, visit chemtrend.com.
###
About Chem-Trend
Founded in 1960, Chem-Trend is a global organization focused on delivering value-adding solutions to improve quality, reduce costs and boost the productivity of molding and casting operations. Chem-Trend offers a globally integrated network of experienced, knowledgeable and insightful production and technical experts in all major manufacturing regions around the world. Chem-Trend serves global manufacturers through offices in North America, South America, Asia and Europe. As a member of the Freudenberg Group, Chem-Trend adheres to the group's "Guiding Principles," which include commitments to providing value for customers, innovation, leadership, encouraging the well-being and development of our people, corporate and personal responsibility, and a long-term orientation. Chem-Trend's company culture, which is intertwined with the "Guiding Principles," drives the organization to deliver exceptional value to its customers through its high standards for conduct. For more information, visit http://www.chemtrend.com.