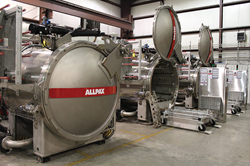 COVINGTON, LA (PRWEB) October 19, 2016
Allpax, powered by Pro Mach, introduces an innovative new loading/unloading system for two door retorts that keeps personnel safe by eliminating any need to enter a two door retort during the loading and unloading stages. The company showcases for the first time at Pack Expo the new AllTrax basket tracking system for verifying the sterilization of every package passing through a retort room. And for the first time, Allpax brings its Shaka production unit to Pack Expo to emphasize the taste and appearance benefits of rapid sterilization. (Allpax Pack Expo Booth #S-3817)
Telescoping Retort
The patent pending Allpax telescoping retort loader pushes loaded retort baskets in and out of two door retorts thereby eliminating the need for personnel to enter the hazardous tunnel-like sterilization units during loading and unloading. Compared to retrofitting a two door retort with an internal conveyor, the telescoping retort loader is significantly less expensive and offers a longer lifespan because it is external rather than internal, minimizing its exposure to harsh sterilization environments. The telescoping loader can be applied to any two door retort and more importantly, any length retort.
AllTrax Basket Tracking System
The AllTrax basket tracking system for non-automated retort rooms is a barcode-based system for tracing cans, jars, trays, and pouches by basket through each critical checkpoint in the retort room. These packages are then tagged to verified processing by each individual retort. This new system, which was introduced in July, is designed to improve security within the retort room and lowers the risk of product bypassing sterilization. AllTrax can be integrated into every non- automated retort operation.
Shaka Retort
Earlier this year the Shaka process patent expired, along with the royalties companies paid to the process developer, making the fast sterilization system even more attractive. Shaka retorts agitate packaging with intense horizontal back and forth movement equivalent to two g-force. This level of agitation rapidly creates a uniform internal heat map within the package. Faster sterilization lowers thermal load and improves taste and appearance. Allpax test kitchen research shows that the quality of foods produced by the Shaka process is comparable to that produced by aseptic packaging at a fraction of the cost of aseptic systems. In addition, sterilization times dramatically shrink with Shaka as compared to static processing. Throughput by way of a single production unit is 9,000 pounds of product per hour, with the added benefit of improved taste and appearance.
Visit the Allpax Pack Expo Booth #S-3817. For more information on Allpax lab retort, retort, and retort room automation solutions, call 1-888-893-9277 and visit http://www.Allpax.com.
About Allpax Products
Allpax Products, a market leader in retort technology and retort room automation, designs, manufactures, and delivers turnkey sterilization solutions for the food, beverage, pet food, and pharmaceutical industries. The company is recognized for helping customers become more successful by decreasing time to market with laboratory retort equipment, lowering overall labor costs through automation, and increasing the overall throughput of the sterilization process. http://www.Allpax.com
About Pro Mach
Pro Mach is a leading provider of integrated packaging and processing products and solutions for food, beverage, consumer goods, pharmaceutical, and other diverse companies. Through multiple brands, Pro Mach provides product packaging and processing equipment, PMMI certified trainers, installation, parts, and service in Bottling & Capping, Primary Packaging, Pharmaceutical Packaging, Flexible Packaging, Material Handling, Labeling & Coding, and End of Line, as well as Integrated Solutions for complete packaging lines.
Pro Mach has a diverse customer base, from Fortune 500 companies to smaller, privately held businesses worldwide, which depend on reliable, flexible, technologically advanced equipment and integrated solutions. Pro Mach is headquartered near Cincinnati, Ohio, with manufacturing facilities and offices throughout the United States, Canada, Mexico, Europe, United Arab Emirates, and China. For more information about Pro Mach, please visit http://www.ProMachInc.com.