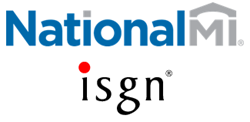 This event gives all participants a direct pulse on the needs of the mortgage market.
EMERYVILLE, CA and PALM BAY, FLA (PRWEB) October 19, 2016
Leading housing industry experts will gather to discuss the current state of the mortgage industry at the Atlanta Mortgage Leadership Roundtable on November 10, 2016. The event is being hosted by National Mortgage Insurance Corporation (National MI), a California-based private mortgage insurer, and ISGN Corporation, a provider of end-to-end technology solutions to the mortgage industry.
Allan Weiss, co-founder and CEO of Weiss Residential Research, LLC, which publishes next-generation home price analytics, will be the event's keynote speaker, presenting "New Approaches to Home Risk." Weiss is the co-founder and former CEO of Case-Shiller Weiss, producer of the S&P/Case-Shiller Home Price Index, one of the leading U.S. housing market indices used by economists and analysts.
In addition to Weiss, representatives from Fannie Mae will be on hand to provide an overview and demonstration of Fannie Mae's Collateral Underwriter® (CU™), which supports proactive management of appraisal quality via an automated risk assessment of an appraisal report.
Cultural Outreach Solutions Founder, Kristin Messerli, will also be speaking. Cultural Outreach Solutions specializes in helping companies in the mortgage industry better reach and serve multicultural and millennial homebuyers. Her expertise is in multicultural marketing, millennial homeownership, and compliance with diversity regulations in the Dodd-Frank Act. The focus of her presentation will be on reaching the millennial homebuyer.
Other experts will address key challenges and issues facing the mortgage industry. Speakers will include Gene O'Bryan, CEO of Solutions Lending Services, speaking about market innovation opportunities; MCT Trading's COO Philip Rasori speaking on Secondary Markets; and Jennine Lee, director of product compliance at ISGN Corporation, will discuss preparing for a CFPB audit and the intersection between technology solutions and regulatory challenges.
"Atlanta is a great venue for lenders and servicers in the Southeast to come together," said Jim Pippin, director of product development for National MI. "This event gives all participants a direct pulse on the needs of the mortgage market."
"Our Atlanta roundtable marks the last of the 2016 mortgage leadership events," said Paul Imura, CMO and senior executive of ISGN Corporation. "We are excited to conclude 2016 with four key events that have engaged close to 200 local lenders of all sizes. With market leaders in millennial marketing, product innovation, GSE and MI solutions, we are confident this venue will be a powerful catalyst in moving our industry forward."
Details of the Atlanta Mortgage Leadership Roundtable are as follows:
Location: The Pavillion at Olde Towne in Marietta, GA
Date: Thursday, November 10, 2016
Time: 9:30 a.m. – 4:00 p.m. Eastern
To register for the roundtable, contact Tracy Berry at tracy(dot)berry(at)nationalmi(dot)com.
About National MI
National Mortgage Insurance Corporation (National MI), a subsidiary of NMI Holdings, Inc. (NASDAQ: NMIH), is a U.S.-based, private mortgage insurance company enabling low down payment borrowers to realize home ownership while protecting lenders and investors against losses related to a borrower's default. To learn more, please visit http://www.nationalmi.com.
About ISGN Corporation
Built on over three decades of technology expertise, ISGN Corporation™ (ISGN) provides smart technology solutions for the mortgage loan industry. Based in Palm Bay, FL, ISGN Corporation offers comprehensive full-service mortgage technology solutions for lenders and servicers. Our deep experience in the industry, well-regarded products, strong customer base and a world-class team of industry and technology experts allow us to create superior products including loan servicing, default management, and construction loan software. For more information, visit http://www.ISGN.com.