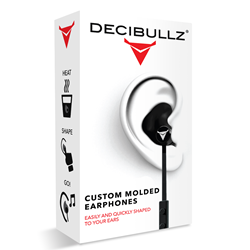 The new sound engine combined with the superior noise isolation and secure fit of the Decibullz custom earpieces creates a phenomenal listening experience.
FORT COLLINS, CO (PRWEB) October 20, 2016
Decibullz Custom Audio introduces the next generation of its award winning DIY custom molded earphones the Contour ES. Part of Decibullz's Easy-Mold System, the custom fitted earpieces are now interchangeable with all of Decibullz's new products.
Decibullz introduced the first thermo-fit custom molded earphones 3 years ago. It was their mission to create a set of earphones that would stay in and stay comfortable for active individuals. Winner of 2 Consumer Electronics Show (CES) Innovation Awards (2014 & 2016) and winner of USA Today's Reviewed.com Best In-Ear Headphone of 2015, Decibullz use unique DIY thermoplastic custom-fit earpieces to create comfortable, perfect-fitting earphones that will not fall out while being active. With a passion for innovation, inventor and CEO Kyle Kirkpatrick has continued to improve the award-winning earphones.
"In addition to expanding our line of products, we wanted to continue to innovate and improve upon our award-winning earphones. The new Contour ES earphones now feature a new three-button remote; thicker, stronger, and more durable cables; and machined aluminum earphone casings. Most important, though, is the improved sound quality. The new Contour ES includes an updated more powerful sound engine featuring large 9.2 mm drivers for a clean, powerful and balanced listening experience. The new sound engine combined with the superior noise isolation and secure fit of the Decibullz custom earpieces creates a phenomenal listening experience."
When heated in water, Decibullz's unique thermoplastic earpieces soften. Once the mold is allowed to cool, the user then places the earpiece into their ear, molding it to an exact fit in minutes, without the need for an expensive audiologist. "The result is a smooth transition from biological to mechanical. This keeps the earphones from falling out and eliminates all pressure points," explained Kirkpatrick.
Unlike other custom molds, the unique thermoplastic earpieces can be reheated and reshaped as many times as needed to achieve the perfect-fitting earphones.
"For me, headphones were always uncomfortable, and earphones would always fall out," concluded Kirkpatrick, who is a former gymnast, extreme athlete and elite gymnastics coach. "Our goal was to create limitless audio, a perfect fitting earphone that enables users to comfortably listen no matter what they are doing. The new Contour ES provides another quality, affordable custom option, so users can listen to what they love while doing what they love!"
For more information visit: http://www.decibullz.com
About Decibullz:
Decibullz is a brand that caters to people who seek quality, comfort and optimal fit in earphones and earplugs. After extensive research, creator Kyle Kirkpatrick concluded that the only way to fit earphones precisely is to mold them to the exact shape of the user's ear. Decibullz was created to solve this problem with an affordable, quick, and easy solution. Decibullz are the first thermo-fit custom-molded earphones and the only re-moldable custom earpieces. Decibullz are simply the most comfortable and best fitting earphones and earplugs on the market.
CONTACT:
Decibullz Custom Audio
970.682.3464
kyle(at)decibullz.com