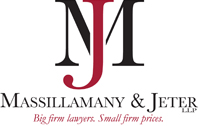 Fishers, Indiana (PRWEB) October 18, 2016
Massillamany & Jeter LLP is partnering with the City of Fishers for Boo Bash 2016! Boo Bash welcomes children of all ages to the Nickel Plate District Amphitheatre on Friday, October 21 from 6:30pm to 8:30pm for safe trick-or-treating, games, activities and live music. Massillamany & Jeter LLP will have a booth where there will be treats and games for both children and adults to enjoy. Partner Mario Massillamany states, "our firm enjoys participating in events, such as the Boo Bash, where we can be actively involved with the children of the community as well as their families."
The festivities will begin at 6:30pm with the Halloween Village opening to all participants. Followed by a costume contest at 7:00pm. The costume contest will be broken down into age categories. Within each age category, prizes will be given to the prettiest, scariest, most creative and best movie character costume. The age categories are as follows:

0 to 2
3 to 5
6 to 10
11 to 12
Family Category
Make sure to sign up early for the costume contest because registrations will be limited to the first 50 in each age group. There will be Halloween entertainment for adults and children to enjoy throughout the evening complimentary Pat's Philly Pretzels and hot chocolate while supplies last. While you are at the Boo Bash, make sure to visit the Massillamany & Jeter LLP's booth!
Massillamany & Jeter LLP is a full service law firm based in Fishers but serving the entire State of Indiana. Mario Massillamany and Chris Jeter began their careers as public interest lawyers, serving their communities at the local, state and national level. Mario served as a local prosecutor while Chris spent several years on active duty in the United States Navy as a Judge Advocate General (JAG). Following their years in public service, Mario and Chris worked for a large law firm with a nationwide practice. In 2015, they decided to make their extensive experience available to everyday people and small businesses. The firm focuses its practice in the areas of personal injury, criminal defense, corporate law, civil litigation, family law, estate planning, and government services. The Firm has offices in Fishers, Carmel, Noblesville, Plainfield, Greenwood, and Lawrence.
For more information, please visit http://www.mjattorneys.com or visit us on social media:
Facebook: http://www.facebook.com/mjattorneys
Twitter: @massjeter