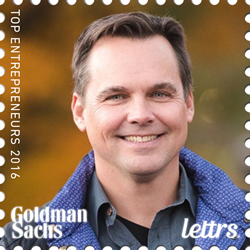 "Drew has done what no one else in the mobile world had yet thought of doing." Karl Ravech, ESPN
New York, NY (PRWEB) October 19, 2016
Goldman Sachs is recognizing lettrs' Fanmail App CEO Drew Bartkiewicz as one of the 100 Most Intriguing Entrepreneurs of 2016 at its Builders + Innovators Summit in Santa Barbara, California.
Goldman Sachs selected serial entrepreneur and war veteran Drew Bartkiewicz as one of 100 entrepreneurs from multiple industries to be honored at the two-day event. He originally founded the popular fanmail app, lettrs, above his garage to bring multi-language letter writing and authenticated autographs to the mobile generation. The app has won awards from Google Play Editorial, The Next Web and other industry recognition to reinvent mobile fanmail through autographed messaging.
"Brilliantly Drew has done what no one else in the media world had yet thought of doing," commented ESPN commentator Karl Ravech. "He has brought personality and permanence to the next generation of mobile communications. Messaging has effectively been reimagined through the lens of collectable FanStamps and the excitement of the authenticated autograph, all in a mobile medium."
"We are honored to recognize Drew Bartkiewicz as one of the most intriguing entrepreneurs of 2016," said David Solomon, co-head of investment banking at Goldman Sachs. "This is the fifth year that we've hosted the Builders + Innovators Summit where emerging business leaders gather to discuss their common interests in building thriving organizations."
For more than 145 years, Goldman Sachs has been advising and financing entrepreneurs as they launch and grow their businesses. In addition to honoring 100 entrepreneurs, the summit consists of general sessions and clinics led by Goldman Sachs experts, seasoned entrepreneurs, academics and business leaders as well as resident scholars.
About lettrs
lettrs is the growing fanmail and mobile autographs application that transforms mobile communications into original media memorabilia. Used in 120 countries and offering the "Uber of Autographs," lettrs brings the new paradigm in messaging, with licensed FanStamps of players, teams, pop culture and politics. The technology has won multiple industry awards and was founded with one simple goal: to help people make messages that actually matter. The company's mobile autographs technology uses patent-pending biometric processes to create certified seals and contracts of purchase and collectability, bringing fanmail into the Millennial generation.
About Drew Bartkiewicz
Drew Bartkiewicz graduated with honors with a BS in Aerospace Engineering from the US Military Academy, West Point in 1989. He served in Iraq with the 82nd Airborne, under General John Abizaid in the 1991 Gulf War, Operation Provide Comfort. After leaving the military he received his Masters in Public and Private Management from the Yale School of Management in 1994. After 20 years in the tech sector with companies like BroadVision and salesforce.com, Drew founded lettrs with his wife, Araceli, and three children Blake, Dane, and Ana, to bring chat-like fanmail, fanstamps and autographed communications to the mobile generation. Since then he has collaborated with Paulo Coelho, Bob Woodruff, Vint Cerf, Michelle Phan, Shirley MacLaine, and NBA Star Andrew Wiggins. Drew resides with his family in Connecticut and New York City.