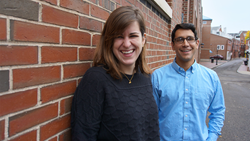 I'm excited to join such a passionate team that understands today's changing public relations trends.
Portsmouth, N.H. (PRWEB) October 19, 2016
Calypso Communications, an integrated creative and public relations agency, announced today the hiring of Tory Mazzola as director of strategic communications and the promotion of Lauren Smith to senior public relations manager.
Mazzola joins Calypso with 12 years of experience in corporate, political and crisis communications. Mazzola began his career in politics and government on Capitol Hill, serving as the communications director for a U.S. Senator and a member of the U.S. House of Representatives. A graduate of the University of New Hampshire with degrees in economics and political science, he later earned an M.A. from the U.S. Naval War College. At Calypso, Mazzola will manage the communications team, which includes public relations, content development, inbound marketing, and social media professionals.
Prior to joining the team, he served as senior manager, corporate communications for Performance Sports Group (PSG), which has a portfolio of global sports equipment businesses, including Bauer Hockey and Easton Baseball. In this role, Mazzola developed successful PR and brand initiatives for PSG and its businesses, as well as advised communications planning for a public listing on the New York Stock Exchange, major athlete appearances, M&A, investor relations, and several executives, including the CEO.
"Calypso brings together a unique and powerful combination of creative, public relations and communications talent to discover and amplify brand stories for clients," said Mazzola. "I'm excited to join such a passionate team that understands today's changing public relations trends and has the expertise to help businesses capitalize on these opportunities."
Smith's promotion recognizes her leadership and seamless integration into a diverse portfolio of client business. She was hired at Calypso in 2015 as a public relations account executive. Since that time, she has provided strategic guidance and high-level media relations tactics for many of Calypso's clientele in the healthcare, technology, private equity, and manufacturing fields. As the senior PR manager, Smith will lead the development of PR and communications plans, and leverage existing media relationships to cultivate new contacts with business and industry media.
"Lauren's expanded role reflects her ability to apply her skill set across our content, social, and creative teams to improve bottom-line results for our clients," said Houssam Aboukhater, managing partner of Calypso. "She has a keen understanding of industry trends affecting our clients and is continually making suggestions to improve our communications strategy."
Prior to joining Calypso, Smith worked for a public relations agency in Minneapolis, Minn., finessing her skills as a member of its manufacturing and technology practice. She earned a B.A. in creative advertising and a B.A. in history from Drake University in Des Moines, Iowa. Currently, she is a foundation ambassador and communications committee member for the New Hampshire Women's Foundation and blogs for the non-profit, Stay Work Play.
About Calypso Communications
Calypso Communications is a premier, award-winning strategic marketing, corporate communications, and business development consultancy with locations in Portsmouth, N.H. and Portland, Maine. Highly sought after for its seasoned insight and perspective, Calypso effectively engages stakeholders crucial to driving business and value for clients in the energy, environmental, healthcare, and technology industries. For more information, visit https://calypsocom.com.