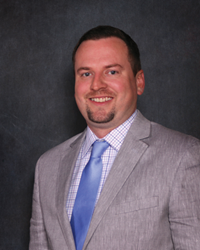 Exciting things are happening at FMCA, and my goal is to keep the momentum going...
Cincinnati, Ohio (PRWEB) October 19, 2016
Family Motor Coach Association, an international organization for motorhome owners, has announced the promotion of Chris Smith to the position of executive director/chief financial officer effective immediately. Mr. Smith joined the association in August 2013 as director of administrative services/controller.
Mr. Smith graduated from the University of Cincinnati with a bachelor's degree in accounting. Prior to coming on board at FMCA, he served as assistant controller for a Cincinnati-based company for several years.
"We are excited to have an experienced staff member take the reins at FMCA," said FMCA national president Charlie Adcock. "During his tenure with FMCA, Chris has become a valuable asset. He has developed an in-depth knowledge of FMCA and the RV industry and has played a key role in the recent membership growth FMCA has been experiencing. We look forward to having him serve in this new leadership capacity."
"I'm honored to be taking on this new leadership role," Mr. Smith said. "Exciting things are happening at FMCA, and my goal is to keep the momentum going and continue to build on FMCA's legacy as the best organization for motorhome owners. We'll be looking for new ways and opportunities to serve the needs of RV travelers. I'll be attending the upcoming National RV Trade Show in Louisville, Kentucky, and look forward to connecting with industry representatives there."
Family Motor Coach Association (FMCA) is an international organization for families who own and enjoy the use of self-contained, motorized recreation vehicles known as motorhomes. The association maintains its national headquarters in Cincinnati, Ohio, and currently has more than 70,000 active member families. FMCA offers its members a number of benefits, including a subscription to its monthly magazine, Family Motor Coaching; a medical evacuation and travel assistance program valued at $105 per family; group rates on a roadside assistance program and on motorhome and auto insurance; discounted rates for RV tours and caravans; and a tire purchasing program. Perhaps the most important benefit of FMCA membership is the camaraderie and friendships that develop among people enjoying the common interest of motorhome travel and recreation. The organization can be reached at (513) 474-3622 or (800) 543-3622 and on the Web at FMCA.com.