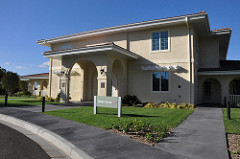 Long Beach, CA (PRWEB) October 20, 2016
Tracye B. Davis, Acting Director VA Long Beach Healthcare System joined Fisher House Foundation president, David Coker here today to dedicate the newest Fisher House at the VA Long Beach Healthcare System. This home will provide lodging for up to 16 families of eligible veterans and military at no cost, allowing them to be close to their loved one at the most stressful time – during the hospitalization for an injury, illness or disease.
The Long Beach Fisher House will not only create an instant community for its residents, united by their common mission of supporting a sick or injured loved one, but it will also provide each individual with a secure and private refuge after a long day at the hospital to rest and recharge.
The 16-suite, 14,000 sq.-ft. "comfort home" joins the more than 70 Fisher Houses operating in the United States and Europe, and was gifted to VA as part of today's ceremony. Each bedroom suite comes equipped with a private, handicapped-accessible bathroom, and common areas that include a spacious kitchen, large communal living, dining and family rooms, laundry room and patio.
"We are excited to open a Fisher House in Long Beach," said Mr. Coker. "There are so many people in the Long Beach community that helped make this Fisher House a reality. Because of their tremendous efforts, we are able to support those we consider to be "our greatest national treasure, our military service men and women, and their loved ones."
"Our ability to provide a safe, comfortable, and supportive environment for the families of our Veteran patients ensures holistic care and promotes healing," said Ms. Davis. "We are grateful to the Fisher House Foundation, our board, and our neighbors for making this possible and for supporting our shared Veterans"
"Four years ago this house was a twinkle in our eyes," said Steve Kuykendall, president of Fisher House Southern California, Inc. "After thousands of volunteer hours and donations across the spectrum of givers and geography we are smiling as we watch the VA Long Beach Fisher House begin a long career serving veterans and their families."
"Delta is committed to giving back to the communities where we live, work and serve," said Dana Debel, Managing Director – State and Local Government Affairs, Delta Air Lines. "With more than 10,000 veteran and active military employees, Delta is a longtime supporter of the U.S. Armed Forces and a proud partner of Fisher House Foundation. We are honored to have played a role in the opening of a Fisher House in Long Beach, and we know it will be a valuable resource to the community for years to come."
Construction of this Fisher House was supported by: Delta Air Lines, Fisher House Southern California, Inc., American Legion Post 516, The Harry and Jeanette Weinberg Foundation, the Nguyen Family, Members of Rotary Club of Long Beach, Shipley Foundation, California Veterans Charity Fund, Supervisor Don Knabe, American Gold Star Mothers, Inc. & Blue Star Mothers of America, American Legion Families of Los Angeles & Orange Counties, Greater Los Angeles Chapter – Association of the United States Army, Evalyn M. Bauer Foundation & the Ackerman Family, The Kevin & Bean Show – KROQ-FM, The listeners of Armstrong & Getty, Elizabeth H. Lucas, Masco Corporation Foundation, The Owen Family, The Ralph M. Parsons Foundation, Tee It Up for the Troops – California Chapter, and Mike & Arlene Walter.
About Fisher House
Fisher House Foundation is best known for a network of comfort homes where military and veterans' families can stay at no cost while a loved one is receiving treatment. These homes are located at major military and VA medical centers nationwide, and in Europe, close to the medical center or hospital it serves. Fisher Houses have up to 21 suites, with private bedrooms and baths. Families share a common kitchen, laundry facilities, a warm dining room and an inviting living room. Fisher House Foundation ensures that there is never a lodging fee. Since inception, the program has saved military and veterans' families an estimated $320 million in out of pocket costs for lodging and transportation.
Fisher House Foundation also operates the Hero Miles Program, using donated frequent flyer miles to bring family members to the bedside of injured service members as well as the Hotels for Heroes program using donated hotel points to allow family members to stay at hotels near medical centers without charge. The Foundation also manages a grant program that supports other military charities and scholarship funds for military children, spouses and children of fallen and disabled veterans.
About the VA Long Beach Healthcare System
VA Long Beach Healthcare System provides care to over 56,000 Veterans living in Long Beach and Orange County communities. With five local community clinics in addition to the main campus, VA Long Beach hosted just under 780,000 out-patient visits through September of 2016 and has a staff of approximately 2800. In addition to traditional ambulatory care services, VA Long Beach hosts one of the largest Spinal Cord Injury Centers within VA, a one of the Newest Blind Rehabilitation Center as well.
Hi Res Event Photos Available from Aestill(at)fisherhouse(dot).org.