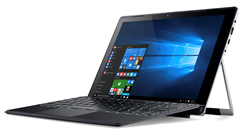 "The Switch Alpha 12 is an excellent example of Acer's commitment to advanced, elegant design that translates into meaningful performance and functionality benefits for customers," said Chris Chiang, vice president, product management for Acer America.
San Jose, Calif. (PRWEB) October 19, 2016
Acer America announces today that the Switch Alpha 12 2-in-1 notebook was given a Best of What's New Award by Popular Science.
"The Best of What's New awards honor the innovations that shape the future," says Kevin Gray, Executive Editor, Popular Science. "From life-saving technology to incredible space engineering to gadgets that are just breathtakingly cool, this is the best of what's new."
The Acer Switch Alpha 12 is the industry's first 2-in-1 with a 6th Generation Intel Core processor to use a fanless design. It delivers cool and quiet operation thanks to its Acer LiquidLoop™ Cooling System, which keeps the Switch Alpha 12 at a stable temperature and running efficiently without fan noise.
The LiquidLoop cooling system also provides improved reliability; since no fan is present, the Switch Alpha 12 doesn't require venting that can be compromised by airflow issues and dust accumulation.
"We are incredibly proud that the Acer Switch Alpha 12 has received Popular Science's esteemed Best of What's New award," said Chris Chiang, vice president, product management for Acer America. "The Switch Alpha 12 is an excellent example of Acer's commitment to advanced, elegant design that translates into meaningful performance and functionality benefits for customers."
Versatile 2-in-1 Design is Sturdy, Provides Advanced Capabilities
The Switch Alpha 12's versatile design with an attachable keyboard allows it to be used in a wide range of positions in both tablet and laptop modes. The stable U-shaped kickstand has an anti-slip design that holds the display upright when customers touch or write on it. Thanks to the sturdy hinges, the kickstand can be smoothly adjusted to any angle up to 165 degrees, making the Switch Alpha 12 comfortable to use on a desk, airplane tray or lap.
The Switch Alpha 12 has a vibrant 12-inch touch display, which is the ideal size for anyone who creates, edits and enjoys content on the go. The display features IPS technology and an impressive 2160 x 1440 resolution to provide vivid color and crisp images. The device's webcam provides 1080p Full HD video and audio recording.
Customers can enjoy 10-point touch controls on the display and use the Acer Active Stylus for an intuitive writing and drawing experience. Plus, the backlit keyboard delivers improved efficiency in low-light areas.
The device can be used as a docking solution thanks to its USB 3.1 Type-C port, which provides fast data transfers, device charging as well as output to an external display. Fast dual-band 2x2 MU-MIMO 802.11ac/a/b/g/n Wi-Fi on the Switch Alpha 12 keeps customers connected with up to three times faster wireless connectivity compared to 802.11n.
The Acer Switch Alpha 12 is thin and light, measuring just 11.5 x 7.93 x 0.62 inches and weighs only 2.76 pounds when the tablet and keyboard are connected.
Pricing and Availability
The Acer Switch Alpha 12 is available in North America now in several configurations. It comes with ample SSD storage available in 128GB, 256GB or 512GB capacities. Pricing starts at $599.99 at retailers. It is also available at the Acer Store with prices starting at $699.99.
About Best of What's New
Each year, the editors of Popular Science review thousands of products in search of the top 100 tech innovations of the year – breakthrough products and technologies that represent a significant leap in their categories. The winners, the Best of What's New, are awarded inclusion in the much-anticipated November/December issue of Popular Science, the most widely read issue of the year since the debut of Best of What's New in 1988. Best of What's New awards are presented to 100 new products and technologies in 11 categories: Automotive, Aviation, Computing, Engineering, Gadgets, Entertainment, Security, Software, Home, Health and Recreation.
About Popular Science
Founded in 1872, Popular Science is the world's largest science and technology magazine; with a circulation of 1.3 and 6.8 million bi-monthly readers. In each issue, Popular Science reports on the intersection of science and everyday life, with an eye toward what's new and why it matters. Popular Science is published by Bonnier Active Media, a subsidiary of Bonnier Corporation.
About Acer
Established in 1976, Acer is a hardware + software + services company dedicated to the research, design, marketing, sale, and support of innovative products that enhance people's lives. Acer's product offerings include PCs, displays, projectors, servers, tablets, smartphones and wearables. It is also developing cloud solutions to bring together the Internet of Things. Acer is celebrating its 40th anniversary in 2016 and is one of the world's top 5 PC companies. It employs 7,000 people worldwide and has a presence in over 160 countries. Please visit http://www.acer.com for more information.
© 2016 Acer Inc. All rights reserved. Acer and the Acer logo are registered trademarks of Acer Inc. Intel, the Intel logo and Core are trademarks of Intel Corporation in the United States and/or other countries. Other trademarks, registered trademarks, and/or service marks, indicated or otherwise, are the property of their respective owners. All offers subject to change without notice or obligation and may not be available through all sales channels. Prices listed are manufacturer suggested retail prices and may vary by location. Applicable sales tax extra.
1.) All brands and product names mentioned herein include trademarks of their respective companies and are used solely to describe or identify the products
2.) Based on IEEE 802.11ac draft specification. An 802.11ac wireless equipped computer requires an 802.11ac router to work properly. Actual speed will vary based on range, connection rate, site conditions, size of network and other factors. Up to three times faster comparing 802.11ac with 802.11n.