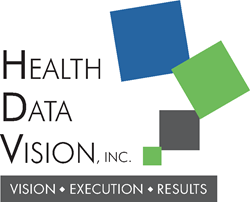 l am pleased that HDVI's success and efforts to distinguish itself in the highly competitive environment has been able to attract two of the most accomplished individuals in this industry. - Jay Ackerman, CEO
Burbank, CA (PRWEB) October 19, 2016
Young and Johnson will be joining Health Data Vision to bolster our Client Delivery teams. As Health Data Vision accelerates growth, Young will be responsible for ensuring that HDVI's clinical review results are unparalleled in the industry. Johnson will be responsible for the testing and rollout of data-flow related features of the SaaS platform and supporting customer-facing teams on various projects.
Health Data Vision's CEO and President, Jay Ackerman, had this to comment about the recently hired professionals; "l am pleased that HDVI's success and efforts to distinguish itself in the highly competitive environment has been able to attract two of the most accomplished individuals in this industry."
"I am excited to have the opportunity to join HDVI. I was struck by how committed everyone here was to creating positive change in the industry as it relates to a user friendly end to end software technology platform, Risk Adjustment Coding and HEDIS Medical Record Review. I am looking forward to continuing to explore my passion to provide quality outcomes for our healthcare customers and ultimately, the healthcare system itself," said Young.
Johnson stated; "I am delighted to join the Health Data Vision organization. Working with the management, clinical, and technical teams with HDVI, I believe we can realize many new opportunities in the clinical data collection space by building on the strong foundation already in place with its MRCS platform."
About Rita Young
Rita Young, RN, BSN, CRNC has worked in Managed Care for over 25 years and has extensive knowledge in chart retrieval, documentation management, clinical abstraction and risk adjustment coding. She will be leading HDVI clinical abstraction activities as the Sr. Director of Clinical Review. Rita joins us from nearly 15 years with Altegra Health (formally Outcomes Health Information Solutions) building one of the largest scale, quality operations in the business where she served as the Chief Operating Officer for Chart Retrieval and Clinical Review Services. Rita and her team were responsible for all chart retrieval and clinical review in both the US and Offshore. Rita is a graduate of Eastern Kentucky University where she earned her Bachelor of Science in Nursing. Prior to entering the business arena, Rita was a trauma nurse for nearly 15 years. She is from Kentucky, but currently resides in the sunny state of Florida.
About Ryan Johnson
Ryan has worked for over twenty years in the healthcare industry with his experience spanning the areas of claims processing, cost containment, quality measures, and risk adjustment. Most recently, he worked with Nexidia, a NICE Analytics Company, as a Solutions Architect leading several large customer integrations on to their analytics platform. As Director of Data Management with Altegra Health (formerly Outcomes Health Information Solutions) Ryan directed efforts that provided overall improvements with data management processes and customer integrations for HEDIS and Risk Adjustment coding projects. A native of Atlanta, Georgia, Ryan obtained his B.S. from Georgia State University and still lives in Atlanta.
About Health Data Vision
Health Data Vision, Inc. empowers payers to take control of their HEDIS® and Risk Adjustment initiatives to improve quality of care & revenue performance. With its unique MRCS SaaS platform and patent pending Secure Virtual Print solutions, clients and partners can manage projects with either in-house, HDVI, or third party resources. As the US healthcare industry increasingly shifts to 'Pay for Performance (P4P),' Quality, Stars, and Risk Adjustment initiatives are mission critical, and thus command executive attention, and investment focus. For more information about Health Data Vision, Inc., visit http://www.healthdatavision.com or call (866) 969-3222. For more information about this press release, contact pr(at)healthdatavision.com.