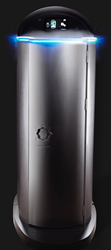 When it comes to health, longevity, and performance, recovery is on par with both nutrition and exercise.
Dallas, TX (PRWEB) October 20, 2016
CryoUSA Solutions℠, the world's leader in providing whole body cryotherapy and other recovery modalities, is pleased to announce they are now the exclusive U.S. provider of the Cryosense Whole Body Cryotherapy chamber, and have recently incorporated Cryosense into their world-class recovery protocols.
"When it comes to health, longevity, and performance, recovery is on par with both nutrition and exercise," said Mark Murdock, Managing Partner at CryoUSA Solutions. "And as the world's leader in providing recovery, we review countless products and services towards that end. We found the Cryosense unit to be the premier, whole body cryotherapy chamber manufactured in the world. We're thrilled to be the exclusive U.S. provider."
The Cryosense whole body cryochamber is a next-generation cryosauna, and the first unit to deliver both cryotherapy and heat in a single unit for a contrasting effect. Clients have the option of starting each session with 40 seconds of heat and then a standard 2-3 minute cryotherapy session ensues. And with eight different user-experience settings to choose from, it is the only cryotherapy chamber on the market that provides a unique experience tailored to the specific needs of each individual, resulting in improved recovery outcomes.
Likewise, Cryosense is the first and only cryochamber with two different target zones that allow clients to choose greater cold intensity on the upper body or lower body, or keep a consistent level of cold over the whole body. What also makes this experience unique is that the client can safely go to colder temperatures with less risk due to the Cryosense constant-dry technology. The unit incorporates a continuous dry cycle, and is therefore the only unit in the world that can run continuously without down time. This makes it the safest cryotherapy unit on the market, and ideal for those considering investing in a cryotherapy chamber.
CryoUSA Solutions was formed to improve the quality of life and enhance their clients' active lifestyles by adhering to the three pillars of health and performance: nutrition, exercise, and recovery. This is accomplished by continual and diligent research, testing, education, and discovery of the most innovative recovery technologies in the world. Offering revolutionary, whole body cryotherapy along with other leading recovery modalities, CryoUSA Solutions has set the industry standards for safety, equipment, and reliability. And while professional sports teams, the world's most elite athletes, and celebrities have trusted CryoUSA Solutions as their provider in recovery, individuals across the country can benefit through the 180+ recovery centers they have helped launch.
"We're now offering the Cryosense whole body cryotherapy chamber to our clients around the world," added Mark. "And we look forward to helping many more professional athletes and those who lead an active lifestyle discover the power of recovery with the new Cryosense cyrohamber."
About CryoUSA Solutions
CryoUSA Solutions is the established world leader in cryotherapy and recovery, providing unmatched expertise to numerous sports organizations. We are a Proud Partner of the Dallas Cowboys, SMU Athletics, and the Official Cryotherapy Provider of the Oregon Project at Nike and the Dallas Mavericks. Nine other NBA teams, Joe Gibbs Racing, and other NCAA teams have chosen CryoUSA Solutions as their cryotherapy equipment provider as well. In addition, we provide cryotherapy to athletes from USA Triathlon, USA Track and Field, MLB, UFC, the NHL and many others. Having installed over 180 cryotherapy units and helped start over 180 independent cryotherapy businesses nationwide, the experienced team members at CryoUSA Solutions are the go-to specialists in the recovery industry. To learn more about whole body cryotherapy and additional recovery modalities, visit http://www.CryoUSAsolutions.com.