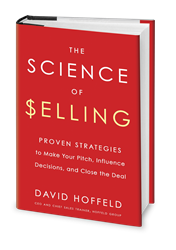 The Science Of Selling offers a new way of looking at and relating to buyers that is accurate, predictable, and reproducible.
Minneapolis, Minnesota (PRWEB) October 26, 2016
David Hoffeld, CEO and chief sales trainer of Hoffeld Group, who is widely regarded as the number one authority on selling with science, has announced that his book, The Science Of Selling, which is being published by Penguin Random House, is now available for pre-order on Amazon and other retailers.
The early response to the book has been overwhelmingly positive as leading sales and business leaders have proclaimed it "groundbreaking," "revolutionary," "a must-read," "as good as it gets," and "the future of selling."
Unlike most books on selling which are based on anecdotal evidence or the author's own experiences, The Science Of Selling draws on decades of scientific research in disciplines such as social psychology, neuroscience and behavioral economics to show salespeople how to align the way they sell with how the brain naturally forms buying decisions, dramatically increasing their ability to earn more sales.
Hoffeld explains that because of this science it's no longer necessary to guess why top producers perform better than average ones. Armed with scientific data, we now have the tools to improve any salesperson's performance.
"The Science Of Selling offers a new way of looking at and relating to buyers that is accurate, predictable, and reproducible. In fact, it's the only way of selling that is scientifically proven to increase your sales results. And those who have embraced it have a dramatic advantage over their competitors," says the author.
Drawing on Hoffeld's nearly decade long study of the science behind selling, The Science of Selling reveals:

How emotions influence decisions and ways to engage buyers' emotions
How to ask questions that are aligned with how the brain naturally discloses information
How to guide the brain through the strategic commitments that enable a buying decision
How to discover the underlying causes of objections and neutralize them
Science-backed presentation strategies that will make your sales presentations more compelling
Packed with advice and anecdotes, The Science Of Selling is an essential resource for anyone looking to succeed in today's challenging, hyper-competitive selling environment, advance their business goals, or boost their ability to influence others.
What's more, Hoffeld is offering everyone who pre-orders his book special incentives that will further enhance one's ability to use science-based strategies to sell more. As Hoffeld notes, "There is a lot of buzz about the book, but because of the incentives we are offering for everyone who pre-orders there will never be a better time to purchase the book."
The Science of Selling is available now for pre-order here. Get your copy today.