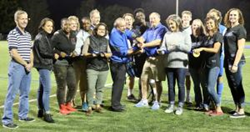 We were already familiar with the product. So it was a natural choice for us.
Brevard, North Carolina (PRWEB) October 19, 2016
It's not often you'll hear the words rainforest, North Carolina, and synthetic turf mentioned in the same breath, but Brevard College in North Carolina made the choice to install a new synthetic turf field, in part, because of the effects of a rain forest.
Brevard lies on the western edge of North Carolina near Gorges State Park, the only temperate rain forest in the United States east of the Rocky Mountains. The area receives nearly 100 inches of rainfall each year and through the years that rainfall has played havoc with the fields at Brevard College.
"Maintaining our grass fields was too difficult. Switching to Shaw Sports Turf was only logical," said Juan Mascaro, Athletic Director at Brevard College. "We simply couldn't keep them up to playing par anymore."
The college also experienced challenges going between two grass fields, but now, with one synthetic turf surface, all sports can use the same field. Sports to be played on the field include men's and women's soccer and lacrosse as well as softball. Football games will still be played at Brevard High School, on their Shaw Sports Turf field that was installed in 2014.
One of the main reasons Brevard College chose Shaw was because of what they saw at Brevard High School.
"We were already familiar with the product," said Mascaro. "So it was a natural choice for us."
The college saw firsthand the quality of work provided by Medallion Athletics from Mooresville. Medallion is a distributor for Shaw Sports Turf of Calhoun, Georgia and the Momentum 41 system was selected for the project.
Brevard College chose to install Shaw's PowerBlade Pro System. The system features Shaw's revolutionary Bolt fiber. Bolt is a stronger, more resilient monofilament fiber, featuring a lightning bolt shape which creates a stronger vertical axis that causes fibers to stand upright for less breakdown and increased durability. Bolt is specifically built for performance and to reflect light for a lower luster and more natural looking field.
The manufacturing and installation of the field are very important and involved processes. Construction began in July and the turf field is now ready for full-time use. The field has already seen some play, with men's and women's soccer games. The final addition will be the lights.
"We are eager to see how the new turf field at Brevard College will positively affect the athletes, making the field more accessible year-round, regardless of weather," said Andrew Barksdale, Territory Manager with Shaw Sports Turf.
The official ribbon-cutting ceremony will be held a couple of weeks ago during the men's and women's soccer games during Homecoming weekend.
About Shaw Sports Turf
A wholly-owned subsidiary of Berkshire Hathaway Inc., Shaw Industries is a full flooring provider to the residential and commercial markets. Shaw supplies carpet, hardwood, laminate, resilient, and tile/ stone flooring products, as well as synthetic turf. Shaw Sports Turf is one of the leading synthetic turf companies in North America and has represented quality and innovation for more than two decades with over 2,000 successful installations, including an impressive list of high-profile field installations. For more information please visit http://www.shawsportsturf.com, call 866-703-4004 or find us on Facebook.
About Medallion Athletics
Medallion Athletic Products is both a licensed general contractor and sub-contractor of athletic surfaces and artificial turf fields required for virtually any sports venue. At Medallion, our plan is straight forward. Partner with the best manufacturers in the business, design and install premium sports surfaces from start to finish, and offer the best customer service support in the industry. You can reach Medallion Athletics at 888-600-3412 or find us online at http://www.medallionathletics.com.