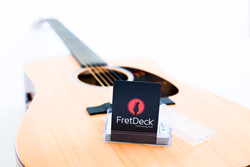 "I started playing with a FretDeck about 6 months ago and I can say my improv skills, and understanding of music theory, have drastically increased." Darrell B
Salt Lake City, Utah (PRWEB) October 25, 2016
Comstock Guitar Studio is pleased to announce the launch of its new Kickstarter campaign for a creative idea that makes it possible for guitar players to learn to play guitar more quickly and efficiently. FretDeck is the brainchild of Justin Comstock, the owner and operator of Comstock Guitar Studio and it works well for beginners through intermediate guitar players. With over 20 years of experience, Comstock has been teaching students to play the guitar for many years. He is passionate about helping musicians write and play their own music.
Justin Comstock's Kickstarter campaign will give his supporters the opportunities to own FretDeck. He explains how he got started: "One evening while watching TV, I tuned into a Stevie Ray Vaughn concert and watched this amazing guitarist play across the fretboard. I realized that he was playing pentatonic scales on the entire guitar. I thought if only other guitar players could understand the fretboard like Stevie Ray Vaughn, they could master the entire fretboard in every single key and feel more comfortable playing the guitar."
Comstock then developed Fretdeck and began using it with his own students. The results were remarkable. One student, Chad Rasmussen, had this to say: "A must-have for any guitar player." Another student, Darrell B. says, "I started playing with a FretDeck about 6 months ago and I can say my improv skills, and understanding of music theory, have drastically increased."
Mike from Rockstar Guitar, had this to say: "The FretDeck is a crucial piece of gear in my armory of guitar-slaying heaven! Just when you think you've hit a brick wall with your guitar playing, and you are incapable of pushing your playing to the next level, this comes along."
The FretDeck Instruction Cards lay out the fretboard map in an easy-to-understand method. Step-by-step instructions show students how to learn and memorize the four chords in each key, then learn and memorize the two scale patterns in each key. Eventually, the student will learn the entire fretboard map and be able to play across it with ease and proficiency.
Comstock concludes with this: "We've had so much interest in this product so we need these Kickstarter funds to manufacture our product in greater quantities. My goal is to give musicians every advantage so they can learn the guitar quickly and begin creating amazing music for the world to enjoy."
Check out the FretDeck on Kickstarter.
About Us
Comstock Guitar Studio provides high-quality guitar lessons that help individuals learn the fundamental knowledge required to play the guitar. They have high expectations for each student to learn, practice and apply the materials given in each lesson. They offer private lessons, group lessons and skype lessons. Justin Comstock created the curriculum for his guitar studio. He has created music instruction for both the piano and guitar which sets him apart from any other music instructor. He has developed a special curriculum for his students called the FretDeck, which is now being featured on Kickstarter.