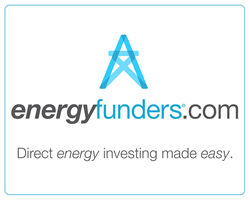 "With this unique tax structure, investors have maximum protection and can write off up to 80% of their investment in the first year."
Houston, Texas (PRWEB) October 25, 2016
EnergyFunders, LLC (EnergyFunders.com), today announced its closing on two projects using a unique capital structure for equity crowdfunding that allows investors to write off up to 80% of their investment in the first year and the other 20% over 7 years.
"What makes this capital structure so unique," said Philip Racusin, CEO, "is the ability for investors to take advantage of the most powerful tax benefits in oil and gas investing at lower buy-ins and do so with the protection of converting from a general partner to a limited partner once the project work is completed. Although these highly favorable tax benefits were signed into law by President Reagan in 1986, quite a few investors are surprised to discover them for the first time through our platform. No other equity crowdfunding platform offers these advantages."
Operating from its patent-pending platform at EnergyFunders.com, the company is the leader in equity crowdfunding for oil and gas, and has raised over $500,000 in less than 60 days to participate in two projects located in Texas. Investors can invest as little as $5,000 with no maximum, own a piece of the well, and receive cash returns through oil and gas production. As owners, investors also share in the appreciation of the project upon its sale. Millions of dollars have already been raised on its EnergyFunders.com platform and it offers educational resources that help investors develop tax strategies and become better oil and gas investors.
About EnergyFunders
EnergyFunders.com is a FinTech company disrupting the energy industry by changing the way capital investment and energy projects come together. Founded in 2013, the company currently offers professionally-vetted oil and gas projects for investment by accredited investors nationwide and will soon be available for every type of investor to participate. Developed by experienced attorneys and trusted specialists in the oil and gas industry, EnergyFunders is the first platform to offer global and national participation in the $263 billion "small oil" market through equity crowdfunding, allowing investors to buy directly into wells themselves for investment minimums as low as $5,000. Managing assets of more than one hundred wells, the company has raised millions for projects, bringing unprecedented access, transparency and efficiency to one of the most elite and lucrative asset classes.