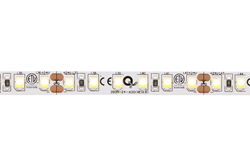 (PRWEB) October 20, 2016
Q-Tran introduces its IP20 Dry-Listed Flexible tape light with a CRI over 95 and an R9 value over 90. The powerful 4.4 w/ft. LED provides up to 329 Lumens per foot and 75 Lumens per watt with unrivaled color rendering and saturation. It utilizes a 2835 Chip Size, with runs up to 21 feet long and cut points every 1.92 inches. The close cut points make it easier to create precise custom linear lengths in the field or the factory. Either can be installed into one of Q-Tran's many aluminum extrusions.
This new product is in stock and available today in 2700K and 3000K but will also be available by the end of the year in 2500K, 3500K and 4000K. Few companies have been able to achieve such a high CRI and R9 values, and Q-Tran promises to deliver more of these LEDs shortly.
CRI, which stands for Color Rendering Index, is a quantitative measurement of color accuracy, with 100 being the maximum. Q-Tran's new 95+ CRI and 90+ R9 tape light series exceeds most other LEDs in this category, with very high CRI (97.8 for 2700K and 98.4 for 3000K). R9 Value represents the lights ability to accurately reproduce Reds, which historically is a difficult color to convey in LED, with a maximum rating of 100. Q-Tran's new 95+ CRI and 90+ R9 tape light series deliver 91.2 in 2700K and 91.9 in 3000K. Both of these measurements are significant and much higher than what most manufacturers offer. TM-30 results for this product series are available on the specification sheets at http://www.q-tran.com. TM-30 was adopted in 2015 by IES (Illuminating Engineering Society) to supplement and eventually replace the CRI metric.
Q-Tran, Inc., founded in 1993, in response to a need in the industry for transformers specifically designed for low voltage lighting. Today, the company has grown to sell over 300 different varieties of Transformers and Power Supply Centers as well as indoor and outdoor Architectural LED Lighting and LED power supplies. In 2013, Q-Tran began offering Linear LED Lighting and Extrusions and has quickly become one of the most trusted names in the Linear LED Lighting industry by applying the same high standards, innovative design and dedication to produce only the highest-quality products, maintaining the outstanding reputation they have been known for many years within the industry.
To learn more about Q-Tran's product offerings, visit their website. You may request more information or even request a sample through Q-Tran's National Network of exceptional local sales representatives. 7.5 Watts per Foot in 95+ CRI, and 90+ R9 Value coming next month. Other outputs with 95+ CRI, and 90+ R9 Value coming soon.