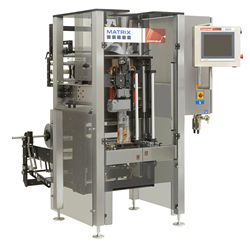 SAUKVILLE, WI (PRWEB) October 19, 2016
Matrix Packaging Machinery, powered by Pro Mach, introduces the new servo-based adjustment system AutoPro at Pack Expo 2016, November 6-9 in Chicago. AutoPro provides faster, more accurate, and trouble free changeover – faster by a minimum of 50 percent. Utilizing the latest technology, which slashes the cost of servo motion and PC-based control, Matrix incorporates AutoPro as a standard feature on its up to 180 bag-per-minute Morpheus continuous motion vertical form fill seal (v/f/f/s) bagger and as an option on the up to 150 bag-per-minute Apollo intermittent motion v/f/f/s machine. (Matrix Pack Expo Booth #S-3726)
AutoPro automates adjustments as fine as .001 inches (.025 mm) on each of nine mechanical axes. AutoPro archives adjustments as recipes and replicates those settings on command. This makes the Morpheus more flexible and gives manufacturers and contract packagers the ability to run a greater number of stock keeping units (SKUs) on the same line without a time penalty caused by making numerous mechanical adjustments. Morpheus with AutoPro will be running polyethylene bags simulating Individually Quick Frozen Food (IQF) bag making and filling at Pack Expo.
Both the Morpheus and Apollo are built on Matrix next generation technology that offers such core attributes as small footprint to conserve floor space, high-speed operation for greater throughput, PC-based architecture with the latest in servo motion control as described above, and the PackML programming language, which gives commonality to packaging machine operator interface and machine-to-machine communication.
Morpheus machines are capable of running films that require longer seal times while still yielding high throughput, making the model ideal for applications such as frozen, fresh cut, and IQF foods. Morpheus can run bag sizes from 2-12 inches (51-305 mm) wide to 2-20 inches (51-508 mm) long; Apollo processes bags 2-12 inches (51-305 mm) wide to 3-14 inches (76-356 mm) long. Matrix engineered a migration path into the Apollo. Apollo machines can be cost effectively upgraded, at the Matrix facility, to continuous motion and up to 180 bags-per-minute operation any time production requires higher throughput.
See the Morpheus with AutoPro at Pack Expo 2016 Booth # S-3726. For more information on the innovative AutoPro, Morpheus, and Apollo, call 888-628-7491 and visit http://www.MatrixPM.com for the full range of Matrix offerings.
About Matrix
Matrix Packaging Machinery is an industry-leading manufacturer known for vertical form fill seal, pre-made pouch, horizontal roll-stock pouch, and stickpack and sachet packaging machines. Since 1988 Matrix has built a solid reputation for delivering rugged, well-engineered, cost competitive, and easy-to-use packaging systems backed by outstanding customer support. Matrix solutions are in operation throughout the world, handling a wide range of products in very diverse conditions. Visit http://www.MatrixPM.com.
About Pro Mach
Pro Mach is a leading provider of integrated packaging and processing products and solutions for food, beverage, consumer goods, pharmaceutical, and other diverse companies. Through multiple brands, Pro Mach provides product packaging and processing equipment, PMMI certified trainers, installation, parts, and service in Bottling & Capping, Primary Packaging, Pharmaceutical Packaging, Flexible Packaging, Material Handling, Labeling & Coding, and End of Line, as well as Integrated Solutions for complete packaging lines.
Pro Mach has a diverse customer base, from Fortune 500 companies to smaller, privately-held businesses worldwide, which depend on reliable, flexible, technologically advanced equipment and integrated solutions. Pro Mach is headquartered near Cincinnati, Ohio, with manufacturing facilities and offices throughout the United States, Canada, Mexico, Europe, United Arab Emirates, and China. For more information about Pro Mach, please visit [http://www.ProMachInc.com.