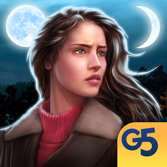 Solve the enigmas of the Twin Moons!
San Francisco, California (PRWEB) October 21, 2016
G5 Games Entertainment today announces the first launch of its new free-to-play game - Twin Moons Society™: Hidden Mystery on the Apple App Store for iPad! It's quite the cloak-and-dagger investigation for hidden object game fans. Step into a mystical gateway to a place called Halfworld and unravel its myriad mysteries!
Game Description:
When a famous researcher who devoted his life to the exploration of enigmatic portals - goes missing, his daughter has no choice but to set out on a journey to a place where universes collide and intersect, a dimensional crossroads known as the Halfworld. She teleports herself into an out-of-this-world adventure to get to the bottom of mysteries that span realms and defy time and space. Challenge the wit, explore stunning locations and meet striking characters. Do the best to find a missing researcher and decode the enigmas of the Twin Moons. Explore unique worlds, find and use hidden objects, play tricky mini-games, solve challenging quests and win the eternal battle between Order and Chaos!
This initial version already has:

Nearly 600 absorbing quests to tackle
80 collections to assemble
16 stunning scenes to explore
Three thrilling mini-games to play
Unique characters and dozens of powerful tools
Plus, there's much more to come in regular free updates!
When: October 6, 2016
Where:
App Store:
Twin Moons Society™: Hidden Mystery for iPad
Game trailer:
Twin Moons Society™: Hidden Mystery
The game is developed and published by G5 Entertainment AB (NASDAQ OMX: G5EN).
For additional information please contact: olga(dot)omelchenko(at)g5e.com
About G5 Entertainment
G5 Entertainment AB is a developer and publisher of free-to-play mobile games, focusing primarily on the adventure and puzzle genres. G5's three top games are Hidden City®, Mahjong Journey® and The Secret Society®. The company is listed on the Nasdaq Stockholm main list and has recently announced it has generated over $100 million USD from its Hidden Object and Hidden Object Adventure games. In the most recent quarter, April-June 2016, G5 reported revenue of 104.5 MSEK (approx. $12.2 million USD), up 17% compared to the same period in 2015. For 2015, the company reported revenue of 384 MSEK (approx. $46 million USD), which represents 48% growth compared to 2014. Over 60% of G5's revenue comes from the US market. The company employs 290 people and has offices in Stockholm, Malta, Moscow, Kaliningrad, Kharkov and San Francisco. For three years in a row, G5 has been named to Deloitte's Technology Fast 50 - a list of the fastest-growing tech companies in Sweden.
More information about the company can be found at: http://www.g5e.com/corporate.
Press Contacts:
Olga Omelchenko, PR Manager, olga(dot)omelchenko(at)g5e(dot)com.