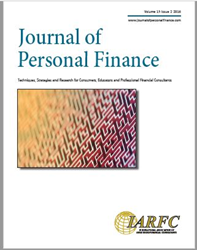 "If each and every member can say there was at least one article in every issue that was worth reading, then I will feel we have been successful....Coeditor, Walt Woerheide, Ph.D.
Middletown, OH (PRWEB) October 19, 2016
Initiated in 2002, the Journal of Personal Finance has grown in scope, acceptance and recognition among practitioners and academicians. The Journal welcomes articles from practicing financial professionals and consultants about financial products and services, client relationships, retirement planning, long-term care, practice management, and firm operational efficiencies.
Six articles are included in Volume 15, Issue 2. Topics explored are: Evaluating Financial Planning Strategies and Quantifying Their Economic Impact, Marriage and Taxes: Who Pays?, Competing Risks: Death and Ruin, College Student Attitudes Toward Retirement Planning, Making Your Money Work: Tax Refunds to Debt Reduction, IARFC National Financial Plan Competition: Case Solution by Bryant College.
"Our latest issue contains an analysis by Dr. Walt Woerheide of the current winning plan from the IARFC 2016 competition held in Charlotte, NC," relates H. Stephen Bailey, RFC® and Chairman of the Association. "We felt it was important to showcase the dedication and relevant observations put forth by Molly Funk at Bryant University – this year's winner."
Co-editor Wade Pfau, Ph.D., CFA, RFC® is a Professor of Retirement Income in the new Ph.D. program for Financial and Retirement Planning at The American College in Bryn Mawr, PA. "I am grateful to have the opportunity to contribute to the financial planning profession by helping to identify research that provides practical implications and uses for financial professionals."
Walt Woerheide, Ph.D. ChFC®, CFPTM, RFC®, has been at the American College for 14 years and served as VP of Academics and Dean for 12 of those years. He has recently been elected to the Master Registered Financial Consultant (MRFC) Certification Board which is overseeing the Association's path to third party accreditation through the NCCA.
The Journal of Personal Finance is a member benefit of the IARFC. To order a hard copy or electronic version of the Journal, to find out more information or to review article submission guidelines, go to http://www.journalofpersonalfinance.com or contact the editors.