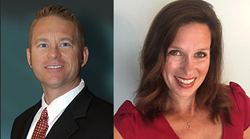 Palmyra, Wisconsin (PRWEB) October 24, 2016
Cultivate by Standard Process continues to expand and evolve its proven approach to delivering business performance through chiropractic-led on-site corporate wellness. Through the Cultivate Business Enterprise Academy, Cultivate is developing DCs to become executive leaders who drive wellness and business success.
"The sole purpose of the Cultivate Business Enterprise Academy is to equip chiropractors with skills to improve business performance for their corporate clients and for their private practices," Cultivate President Jerry Curtin says.
Cultivate Business Enterprise Academy curriculum was designed by a panel of experts with a combined 180 years of applicable field experience. Cultivate uses documented chiropractic expertise, corporate processes and proprietary tools based on 10 years of data and outcomes.
Cultivate Adds Practice Development Coordinators From Chicago and Milwaukee
Dr. Michelle Wesely, Chicago, and Dr. Ken Krimpelbein, Milwaukee, recently joined Cultivate Business Enterprise Academy as practice development coordinators. Both run successful private practices. Both are Cultivate-certified on-site corporate wellness chiropractors.
"Joining the Cultivate Business Enterprise Academy appeals to me for one reason," Dr. Wesely says. "We bring real-life practical experience in delivering on-site corporate wellness to chiropractors seeking to make a difference in their communities and in their private practices."
Those chiropractors accepted into the Cultivate Business Enterprise Academy gain access to a network of leaders in the corporate on-site wellness model and successful private practitioners.
The ongoing support offered through the Cultivate Business Enterprise Academy staff and accredited DCs includes regular phone conferences, webinars and exclusive high-level continuing education sessions. All centered on delivering business performance.
"The proven Cultivate on-site business model develops you and your practice to deliver more confidence while solving for common chiropractic challenges," Dr. Ken Krimpelbein says. "These include maximizing community visibility, diversifying your practice, creating more certainty in care and, ultimately, impacting more lives. Cultivate does not succeed unless your private practice succeeds."
Visit http://www.cultivateonsite.com/partner/for-chiropractors to explore the Cultivate Business Enterprise Academy. Get started by completing the short form at the bottom of the page.
Dr. Ken Krimpelbein Biography
Dr. Ken Krimpelbein graduated from Cleveland Chiropractic College in Kansas City, Mo., in 1995. He completed his undergraduate studies at UW-Whitewater. Since 1995, he has run and maintained a successful practice. In April of 2005,The American Chiropractor (a chiropractic trade journal) featured Dr. Ken in an article entitled "The Amazing Chiropractor." Dr. Krimpelbein's practice has been selected by readers of the Milwaukee Journal Sentinel as a Top Choice Finalist in the Chiropractic Category and the Business of the Year by the South Shore Chamber of Commerce.
Dr. Michelle Wesely Biography
Dr. Michelle Wesely hails from Whitby, Ontario, Canada, and is a Certified Functional Medicine Practitioner and a board certified Chiropractic Physician in Illinois. She completed her functional medicine training at Functional Medicine University after earning a Doctorate in Chiropractic and Bachelor of Science in Human Biology from the National University of Health Sciences. Dr. Wesely has been practicing with her husband Dr. Mark Wesely since 2001 in Glen Ellyn, Ill. In 2015, Wesely Family Chiropractic was awarded the "Patient's Choice Award" for their commitment to quality patient care and the community.
About Cultivate by Standard Process
Cultivate is the first company of its kind that incorporates an on-site chiropractic professional with nutritional expertise as part of an organization's wellness offering. This expert serves as the central resource to provide key elements of an effective wellness program, including chiropractic care, fitness consulting, nutritional guidance, and ongoing health education curricula. Cultivate works to assess and then deliver scalable wellness solutions to impact individual employees and the overall company using onsite chiropractic as a central component of the program. To learn more, visit http://www.cultivateonsite.com
# # #