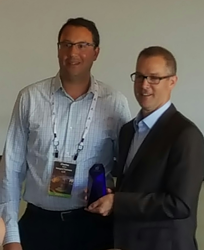 Integral Partners clearly understands how to scope, prioritize and deploy CyberArk technology to both meet customers' immediate business needs as well as longer-term risk management planning and strategic integration - Scott Whitehouse
BOULDER, Colo (PRWEB) October 20, 2016
For the second consecutive year, CyberArk, a global leader in privileged account security, selected Integral Partners as its Service Partner of the Year. The award was announced at CyberArk Impact 2016 Boston, the company's annual event for Americas customers and partners.
The Service Partner of the Year distinction is awarded to the certified CyberArk partner that delivers consistent innovation and effectiveness in deploying and integrating all elements of the CyberArk Privileged Account Security Solution.
"The CyberArk Privileged Account Security Solution reduces risk while increasing effectiveness of customers' existing security investments. Integral Partners clearly understands how to scope, prioritize and deploy CyberArk technology to both meet customers' immediate business needs as well as longer-term risk management planning and strategic integration," said Scott Whitehouse, vice president channels and alliances, CyberArk. "We are pleased to recognize Integral Partners for the second consecutive year for CyberArk services excellence."
According to Verizon's 2016 Data Breach Investigation Report, compromised user credentials were exploited in 63% of all successful attacks with privileged credentials being the greatest value to hackers and biggest risk to enterprises.
"We recognize the strategic importance of CyberArk's solution in an overall information technology security program," says Scott Silver, CEO of Integral Partners. "Integral Partners will continue to invest in our privileged access management practice and relationship with CyberArk to help our customers reduce their risk and optimize their information security investments."
About Integral Partners
Integral Partners is a specialized security consulting and integration firm with deep technical experience, proven methodology and expert Identity and Access Management professionals who ensure project success and deliver results across multiple identity and access domains.
Integral Partners is committed to CyberArk's continued leadership in the privileged account security market and supports CyberArk's ongoing success with highly skilled technical and program management consultants.
For more information visit http://www.ipllc.co or contact Kory Wilson at 415-421-1066