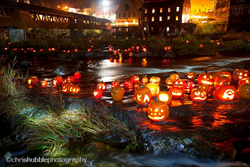 "This event is very cool and unique, one-of-a-kind in the northern region," says Harkless "it's just really fun and organic; there's no better way to put it."
Littleton, NH (PRWEB) October 19, 2016
Local businesses around the Littleton region are working together to bring visitors and locals another pumpkin spectacular on the Ammonoosuc River. Littleton's Gathering of the Jack O'Lanterns started five years ago as an idea of Dave Harkless, owner of Littleton Bike & Fitness, and has grown every year since with a great outlook for continuing the tradition this year.
"Dave's energy and ability to coordinate all of the details of this event over the past few years is what has grown the event to what it is today," says Jessica Bunker, Downtown Director at the Littleton Area Chamber of Commerce. "It's vital to have champions like Dave to make these events happen and make downtown Littleton a place for visitors and locals alike to enjoy."
Last year's event saw over 400 donated pumpkins set upon the rocks of the Ammonoosuc River and covered bridge, with hopes of reaching over 500 this year! Each year, local businesses in addition to the local schools organize carving parties where those wishing to participate can bring a pumpkin, or choose from donated pumpkins, to carve and drop off at Littleton Bike & Fitness to be displayed. This year's carving party involvement has grown to include some additional local businesses, such as Secure Network Services and Tender Corp., who hope to contribute toward the event's pumpkin goal.
The main event of the weekend is the Gathering of the Jack O'Lanterns on Saturday evening but there are many events and activities to take part in throughout the weekend. This year, the event is expanding into some of the surrounding towns, like Bethlehem, to kick off the weekend. Boofest, held Friday at 6 pm, will take place at the Colonial Theater in Bethlehem and will feature Circus Minimus, a one-man circus-in-a-suitcase.
Saturday's events kick off with the Annual Littleton Police Department Halloween Festival held at the Littleton High School starting at 10 am. One of the can't-miss events of the day is the zombie walk, taking place at 6 pm along the riverwalk area. "It's great to see all of the young kids and adults that want to participate and become zombies for the evening!" says Harkless, "At Littleton Bike & Fitness we have the shop open and offer to do participants makeup and then we get to watch them infiltrate the entire riverwalk area. It's a great addition to the event."
Another great addition to this year's event, and expansion of local business participation, is the inclusion of local volunteers and food vendors. Some of the local vendors will include the Littleton Senior Center, Peace Café, Profile High School Arts Alliance, Farm to Fire and Tracy Girl Food Truck. Some of the other local eateries that will be open during the weekend include Schilling Beer Company, Miller's Café & Bakery, Bailiwick's Fine Restaurant, Grille One Eleven, Beal House Inn, and Little Grill all located in downtown Littleton.
All of these fun-filled activities lead up to the main spectacle, Saturday, October 29th at 6 pm, the Gathering of the Jack O'Lanterns; hosted by the Littleton Chamber of Commerce. "This event is very cool and unique, one-of-a-kind in the northern region," says Harkless "it's just really fun and organic; there's no better way to put it."
Littleton is known for being the cultural hub of the region and having strong community involvement. The Gathering of the Jack O'Lanterns is yet another event that brings the community together to showcase its cohesiveness. Bunker explains "It's this community spirit that really is giving Littleton its identity.  We're lucky to have such wonderful community members!" For a full schedule of events and more information, please visit http://www.littletonareachambernh.com/jackolanterns or call Littleton Bike & Fitness at 603-444-3437