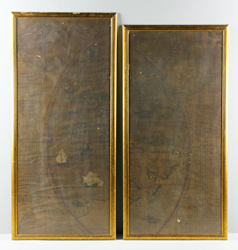 Beverly, Massachusetts (PRWEB) October 24, 2016
It's the story you love to hear in the antiques world. Rare maps found in garage sell for $24,000. Two dark, ripped images in poor condition in the Kaminski Auctions October 1st auction turned out to be just that. Several astute collectors on the phones and Internet recognized the pair of panels for what they really were, two panels of a map produced for the Korean market of Matteo Ricci's derivative map.
Through a series of unlikely events the pair have found a temporary home with Barry Lawrence Ruderman Antique Maps at RareMaps.com in La Jolla, California. The two panels were first described as "two 19th century hand colored prints of the world" on closer inspection an astute cataloger recognized they were in fact maps and changed the description on all of the Internet bidding platforms. The maps were purchased twenty years ago at the Brimfield Antiques Show and were found in the garage of a Palm Desert home.
"We only spotted the map about 24 hours before the sale doing a routine search for maps in upcoming auctions. My gallery manager, Alex Clausen, brought it to my attention, and the two of us quickly worked out that it was a 'Matteo Ricci derivative map.' We researched the map for about an hour, before concluding it was the 1708 'Korean edition' of Ricci. Twenty five hand painted copies were reported to have been done between 1605 and 1608, one of which survives in the Nanjing Museum " stated Barry Ruderman.
Matteo Ricci was an Italian Jesuit missionary and one of the founding figures of the Jesuit Missions in China. Arriving in Macau in 1582 he began his missionary work. He was the first European to enter the Forbidden City of Beijing in 1601. His skills in astronomy and calendrical science caught the attention of the Wanli Emperor who granted Ricci a stipend in 1601, which allowed him to begin creating maps for the Emperor.
In 1602 Matteo Ricci's published a World Map (Kunyu wanguo quantu), or Map of the Ten Thousand Countries of the Earth. It is the oldest surviving map in Chinese to show the Americas.
The last example of the Ricci map to come to market was sold by Bernard Shapero Rare Books to the James Ford Bell Library for $1,000,000 around 2008. There are approximately six known complete examples of the Ricci World Map.
In 1708 the Ricci map was copied for the Korean market. The Gonyeomangukjeondo is a Korean hand-copied reproduction by painter Kim Jin-yeo. This map represents the world in an ellipse.
A copy of the 1708 Korean Ricci map is owned and displayed at the Seoul National University Museum and was designated National Treasure No.849 on August 9, 1985. There are only a few known surviving examples of the Korean copies and it appears they are more rare than the 1602 Ricci. Two are located in Korea and one in Edinburgh, Scotland.
"The map sheets we purchased at Kaminski are Sections 1 (far left side) and 6 (far right side) of a 6 sheet World Map. The 1708 Korean Ricci map is noteworthy for its addition of sea monsters, sailing ships and other decorative embellishments, which is how we were able to identify what we were looking at from the images provided on line by Kaminski.
"Our intention is to restore the map clean, stabilize, de-acidify, etc. and offer it for sale by December 2016. We suspect there should be considerable institutional and private interest, given the rarity and importance of the Ricci map " said Ruderman.
The maps were shipped to the consignor immediately after the auction and in a subsequent phone call Mr. Ruderman stated that, "Now, on closer inspection, we are leaning toward original Ming Dynasty hand painted copies. If these do prove to be originals from 1605-1608, it would be an even more exciting find. We are not aware of any of these maps appearing at auction or otherwise. A printed Ricci is obviously an exciting thing, but one of the hand painted Ming Dynasty era copies, extra illustrated with sea monsters and sailing ships, would be an even more extraordinary find."
After a call alerting the Boston Symphony Orchestra press office that a large collection of drawings and paintings with assorted correspondence, all relating to the BSO by the artist Donald Carlisle Greason were coming up for auction, the collection sold for $7,200 and found a permanent home in the BSO archives.
A 19th century Italian classical marble sculpture marble unsigned of a male torso from a Rome estate was hotly contested on the phones and Internet and was finally hammered down at $14,400.
A circa 1920 Art Deco ladies diamond, emerald and platinum Jabo pin, from a New York collection, sold for $10,200. Jewelry as a category did well in the sale with a ten carat ladies platinum and diamond bracelet selling for $5,700, and a fourteen carat yellow gold, diamond and ruby necklace, with forty-nine natural step cut oval and pavilion rubies selling for $4,800.
Signed mid century modern furniture continues to bring in the buyer's. A Frank Gehry for Knoll bentwood table with four chairs stamped 06/19/93/, had numerous Internet bids and was finally hammered down at $4,800.
All prices include twenty per cent buyer's premium. For more information and to view our upcoming schedule go to http://www.kaminskiauctions.com and sign up to bid with KaminskiLIVE.