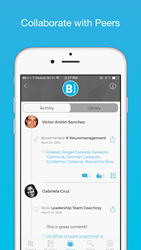 It is important that our members have access to BlueBottleBiz, at any time, no matter where they are. -Heather MacNeill, Head of Global Marketing & Communications
New York, NY (PRWEB) October 20, 2016
BlueBottleBiz, the leading collaborative learning platform for business professionals, recently launched its mobile application on the App Store and Google Play Store. Using the apps, BlueBottleBiz members can access their favorite books, videos and other business-related resources, aggregated from close to 300 global publishers, directly from their iPhone or Android phone.
BlueBottleBiz partnered with Spain-based application development company, Aluxion Labs – which has developed apps for both startup and established companies – to design and bring the apps to life.
"Thanks to Aluxion Labs, our members can seamlessly pick up with learning and collaborating right where they left off on their desktop," said Heather MacNeill, head of global marketing and communications. "Our focus at BlueBottleBiz is to empower learners around the world to grow talent and share knowledge using a combination of content, professional network and collaborative tools. In the highly-connected world in which we live, it is important that our members have access to BlueBottleBiz, at any time, no matter where they are."
To log in to BlueBottleBiz through the apps, members can use their existing platform credentials. Once logged in, it's easy to view learning history, notes and highlights, as well as access new features like browsing content based on industry topic. Members can also collaborate with groups, just as they can from their desktop.
"It has been a pleasure to develop the mobile application for a leading company in the field of collaborative economy, such as BlueBottleBiz," said Javier Martin, Aluxion CEO and co-founder. "The Aluxion Labs team is very proud to contribute to improving the user experience offered by BlueBottleBiz to their customers."
Visit the App Store or Google Play Store to download BlueBottleBiz, and start learning on the go. For more information on BlueBottleBiz and how it is helping to reshape corporate learning, visit BlueBottleBiz.com.
About BlueBottleBiz
BlueBottleBiz, the leading collaborative learning platform for business professionals, empowers its members to grow talent and share knowledge using the most expansive digital business content library and the most modern social and content marketing tools. The platform provides businesses, publishers and other members the ability to increase brand visibility, establish thought leadership, learn from industry experts and build global connections. Since its inception in 2012, BlueBottleBiz has earned the trust of close to 300 publishers, allowing the platform to feature nearly 30,000 books, videos, journals and other resources. In a crowded marketplace, BlueBottleBiz offers the clear competitive advantage of applying the sharing economy principles to the knowledge space. To learn more about the platform or to sign up for a free trial, visit BlueBottleBiz.com.
Media Contact
Michelle Yandre
PR Manager
michelle[at]bluebottlebiz[dot]com
920-250-2594