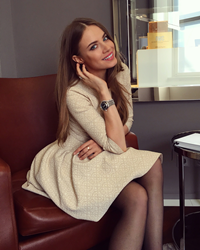 The partnership with Xenia will showcase the array of services JETLUX offers and how the brand differentiates itself by bringing a new level of luxury to travel
Toronto, ON and Miami, FL (PRWEB) October 20, 2016
JETLUX a premier jet charter brokerage service, a division of Corporate Travel Management Solutions (CTMS), has announced a new partnership with digital celebrity Xenia Tchoumi. As part of this new agreement, JETLUX will become the preferred travel partner of Xenia and she will become the new "face" of the brand.
"We are excited to be working with such an influential individual like Xenia. This partnership will showcase the array of services JETLUX offers and how the brand differentiates itself by bringing a new level of luxury to travel." said Chief Executive Officer, Tom Osovitzki.
As a part of this one-year deal, Xenia's collective followers of over 6 million will be introduced to the JETLUX brand and suite of services via social media and speaking events, along with a photoshoot to be used as advertising on both JETLUX and Xenia's channels.
"I'm glad that JETLUX has a forward thinking, modern corporate culture and understands the importance of new media and the importance of the brand positioning alongside a digital influencer," Xenia explains. "As an avid traveller I always seek the best service and comfort to get to my next destination full of energy and ready to look at my best for my shootings, events and speaker's commitments. I'm more than thrilled to start this journey together with JETLUX, I choose very carefully the right travel partner - and I am convinced this partnership is going to be an incredible experience."
For more, contact JETLUX at 1-855-538-5892 or via email at info(at)jetlux.com
About JETLUX
JETLUX is the premier charter brokerage service that provides clients a truly luxurious air travel experience. With access to more than 6,000 aircraft options worldwide, JETLUX offers a limitless variety of travel options and high-end amenities appealing to a wide segment of corporate and luxury clients. JETLUX has competitively priced light jets, mid-size jets and jumbo jets to meet your needs and reach your final destination safely and securely in style. Visit http://www.jetlux.com to learn more about worldwide charter services made simple.
About Xenia
Xenia Tchoumi is a fashion influencer, digital entrepreneur and public speaker based in London. Armed with an economics degree and knack for entrepreneurship, the Swiss-Italian influencer with Russian origins speaks six languages (Italian, Russian, English, German, French and Spanish) and turned down an offer to work full- time at top financial firm to continue her online endeavours for her "blogazine", Chicoverdose. The website produces unique and fashionable content that is consumed by hundreds of thousands of readers globally. Xenia has worked with brands of the like of Ferragamo, IWC, Bulgari, American Express, Rolls Royce, Tod's, Hogan, Tom Ford and Dior. As well as lifestyle brands like Vodafone, Sky and Huawei. She regularly shoots with magazines of the likes of L'Officiel, Vanity Fair or Elle. She has recently given two motivational TED talks, she's a freelance magazine contributor and stands for female empowerment.