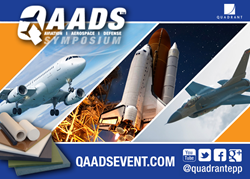 "QAADS attendees are problem solvers, they're looking 40-plus years out at hybrid and emerging technologies to anticipate future needs and be better positioned to tackle today's challenges."
Long Beach, California (PRWEB) October 24, 2016
Quadrant's Aviation, Aerospace & Defense Symposium (QAADS) is a one-day event for engineers being held November 3, 2016 in Long Beach, California. The lightweighting symposium will deliver actionable strategies from experts in high-strength, lightweight thermoplastics, encouraging the most ambitious brands in aerospace to think big and accelerate the next generation of innovations in global flight. Registration is free and open now at qaadsevent.com.
QAADS 2016 is hosted by Quadrant Engineering Plastic Products (Quadrant EPP), a leading global manufacturer of high-performance thermoplastic materials in the form of semi-finished products and finished parts. Quadrant is continuously developing new and innovative materials for leaders in the aerospace manufacturing industry.
Symposium topics cover concerns and challenges faced by the aviation, aerospace, and defense industries, including maximizing profit and value across the global supply chain with new material technologies, eliminating potential failure points with one-piece designs, advanced material solutions that are easier to design, shape and repair, lightweighting for increased fuel efficiency and reduced green house gas emissions, designing with high-strength & lightweight materials for "inside & out" applications; propulsion, interiors, structures and systems, reducing friction on wear surfaces with little or no lubrication, reducing aerospace manufacturing costs by replacing traditional materials; aluminum, titanium and other metals and more. Attendees will gain access to top industry leaders and receive actionable insights from subject matter experts—leaving the symposium with a competitive advantage that will help them spark innovation and accelerate global advancements in flight.
"The industry is concerned about how to retain competitive advantages while still achieving eco-efficiency goals and safety regulations," says Frank Johänning, Quadrant's Global Market Manager of Transportation and Aerospace. What we're really talking about here are the complex challenges experienced by top tier OEM's as a result of industry globalization. To us at Quadrant, we believe it's not good enough anymore just to produce innovative thermoplastic and composite materials – it's about looking at a material's efficiency in the overall system it's expected to perform in for the optimal balance of performance and safety. Specifying the right materials can be a frustrating process, but at QAADS we arm attendees with the knowledge they need to cut through the confusion and unlock the next generation of breakthroughs in aviation, aerospace and defense applications. QAADS attendees are problem solvers, they're looking 40-plus years out at hybrid and emerging technologies to anticipate future needs and be better positioned to tackle today's challenges." Johänning is scheduled to speak at the symposium this November.
QAADS 2016 is open to Engineers and Procurement Professionals including but not limited to Design & Process Engineers, Mechanical & Structural Engineers, Material Scientists & Engineers, Flight Engineers, Production Engineers, Systems Engineers, and Test & Evaluation Engineers. The symposium will offer continuing education sessions with Q&A (where attendees will listen to and interact with experts); one-on-one meetings (where experts will hold confidential meetings in order to explore specific material/application challenges); and manufacturer-user roundtables.
For information about the symposium (schedule, travel, and venue information) and event registration visit qaadsevent.com.
Media Contact:
Kim Imes, Marketing
kim.imes(at)qplas.com | 610.320.6709