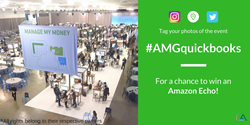 "We are trusted partners with countless accountants and business owners, providing customizable and robust solutions..."
Los Angeles, CA (PRWEB) October 19, 2016
AMGtime is excited to sponsor 2016 QuickBooks Connect, in the San Jose Convention Center, located in the heart of Silicon Valley, from October 24-26. Business owners, accountants, developers, and entrepreneurs will be coming together with the same thing in common – integrating with QuickBooks by Intuit to help companies and individuals get ahead in business. AMGtime, a leading solution for time and attendance, will be demonstrating their innovative software and hardware solutions in booth B10 located at the Uptown Exhibit Hall.
QuickBooks Connect will have many celebrity speakers and QuickBooks partners. The long list of influential speakers include Eva Longoria, Michael Phelps, Simone Biles, Tony Hawk, Shaquille O'Neal, Malcolm Gladwell, and Jillian Michaels. In addition to the inspirational speeches, attendees will learn about new developments for QuickBooks solutions.
AMGtime is seamlessly integrated with QuickBooks via API, allowing time and attendance data to effortlessly transfer to QuickBooks' payroll software. "We are trusted partners with countless accountants and business owners, providing customizable and robust solutions that not only simplify their labor management, but their customers' as well; and with seamless integration to payroll, make their jobs a little bit easier," said Tony Galstyan, founder and CEO of AMG Employee Management Inc.
The AMGtime software is available on both the cloud, and for install on the client's server, and works seamlessly with available hardware options which range from biometric devices to a mobile app. AMGtime will be showcasing the newest member of their biometric devices, the Elionic, a fingerprint employee kiosk. This innovative device allows employees to check schedules, view time cards, request time off and much more, directly from the device.
Come visit AMGtime at booth B10 and chat about how AMGtime can benefit your business, and enter for a chance to win some great prizes, including the new Amazon Echo!
About the Company
With over 23 years of industry experience, AMG Employee Management Inc. is a national leader in providing comprehensive time and attendance products and services. This innovative Los Angeles based company has a passion for supplying companies with solutions that boost the accuracy of time and payroll records. From basic to highly customizable solutions for niche markets, AMG Employee Management delivers the best solution, based on the needs of each company.