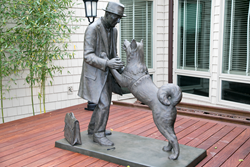 "This 90-year-old story still moves us as a symbol of how a human and an animal can come to forge a genuine bond." Ambassador Reiichiro Takahashi, the Consul General of Japan in New York City
Lafayette, NJ (PRWEB) October 21, 2016
Abbey Glen Pet Memorial Park, a premier aftercare service facility offering exclusive cremation and pet burial services to veterinarians and pet owners for over 40 years, unveiled an exclusive reproduction of the life-size Hachi-kou and Professor Ueno statue during a dedication ceremony held on their 14-acre property in Lafayette, NJ, on October 9th.
Local officials, media and approximately 150 of community residents with their pets gathered to view the exclusive U.S. replica and listen to special presenting guests Ambassador Reiichiro Takahashi, the Consul General of Japan in New York City, and Mrs. Yumi McDonald the author of "Reminiscence of Shibuya".
"This 90-year-old story still moves us because it serves as a symbol of how a human and an animal can come to forge a genuine bond. Anyone who has pets must understand this. That is why I think it is quite fitting and proper that this statue should be placed on this beautiful pet cemetery as a reminder to all owners of the unique relationship they enjoyed with their pets resting here," Ambassador Reiichiro Takahashi remarked while delivering his touching speech.
"Abbey Glen is privileged to have been selected as the home for what is a true symbol of the human - animal companion bond. We know that all of those wonderful and compassionate people whom we serve will enjoy the statue for years to come," said Derek Cooke, president of family-owned Abbey Glen.
Those interested in becoming an exclusive sponsor and honoring their family or beloved pet by having their choice of name cast in bronze on the donor plaque permanently displayed beside the exclusive U.S. version on Abbey Glen campus, please visit: http://www.abbeyglen.com/PublicPages/StatueDonation.aspx
For more information on Abbey Glen and their services, please visit http://www.abbeyglen.com.
About Hachi-kou:
Hachi-kou is a Japanese icon, and his story is an important part of Japanese culture. Hachi-kou, a beautiful and faithful Akita, was given to his owner, University of Tokyo Professor Ueno, at just eight weeks old. Hachi-kou regularly accompanied his master to the Shibuya train station and returned in the evening to greet him for their walk home. Professor Ueno died suddenly in 1925 from a cerebral hemorrhage, but Hachi-kou returned to the same spot in front of the train station waiting for his master each and every day for nearly 10 years, until his own death in 1935. This story inspired the book, "Reminiscence of Shibuya" by Yumi McDonald as well as the Richard Gere film, "Hachi, A Dog's Tale." On March 8th 2015, on the 80th anniversary of his death, a statue of Professor Ueno and Hachi-kou was erected at The University of Tokyo's campus.