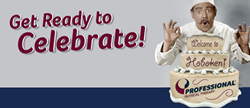 The New Jersey region has quadrupled in size since the beginning of the year
Uniondale, NY, Hoboken, NJ and Eastchester, NY (PRWEB) October 24, 2016
Professional Physical Therapy, a leading provider of physical therapy and rehabilitation clinics throughout New York, New Jersey and Connecticut, announces today the opening of a brand new, state-of-the-art clinic in Hoboken, New Jersey, at 5 Marine View Plaza, and its Eastchester clinic in Westchester County, New York is moving to 777 White Plains Road.
The opening of the Hoboken clinic is Professional Physical Therapy's 103rd clinic, its 35th in New Jersey, and their first in Hudson County. The Hoboken clinic will offer both Physical and Hand Therapy, is conveniently located in the heart of the New York metropolitan area, is within walking distance of NJ Transit, and is situated along the beautiful Hudson Waterfront. With convenient clinic hours available, both residents and commuters can easily utilize the services offered at the Hoboken clinic. The Eastchester clinic is moving to an expanded, brand new, state-of-the-art space just up the road from the old location, within The Shoppes @ Eastchester.
"At Professional, we're not only opening new clinics, but we're improving the ones we already have through renovations and upgrades, moves to larger spaces, and expansion of services, with the intention of keeping our patients comfortable and confident in our abilities to treat them. In addition to our Eastchester move, our E. 87th Street clinic in Manhattan was recently upgraded and expanded, and our two Brooklyn clinics are currently undergoing renovations. As always, with everything we have going on, our patients' needs are at the forefront of our decisions," says George Papadopoulos, Founding Partner and Chief Development Officer at Professional Physical Therapy.
Jeffrey De Bellis, Partner and Regional Vice President of Clinical Operations at Professional Physical Therapy in New Jersey adds, "Following the exciting company wide milestone of surpassing 100 clinics, it is also extraordinarily gratifying to be part of the New Jersey team, which continues to rapidly grow. The New Jersey region has quadrupled in size since the beginning of the year, which is an amazing accomplishment and a result of the incredible team of referral sources and patients with whom we are privileged to work. The Hoboken clinic in Hudson County now gives us a presence in nine counties in New Jersey, as we continue to make every effort to be a name our patients can count on."
For more information and a list of all of Professional Physical Therapy's locations, please visit http://www.professionalpt.com.
About Professional Physical Therapy
Professional Physical Therapy, headquartered in Uniondale, New York, is an award-winning, leading provider of physical therapy and rehabilitation services throughout the New York metropolitan area, New Jersey and Connecticut. Founded in 1998, Professional Physical Therapy operates 103 outpatient physical and hand therapy centers: 12 located within Equinox Fitness Centers, five located in Blink Fitness facilities, one located in a STACK Sports Performance Center, one inside a Golf & Fitness Academy, one inside Chatham Club, one inside Strive Fitness, and 82 standalone. The company's outpatient physical therapy centers provide treatment to patients suffering from musculoskeletal impairments associated with orthopedic and sports injuries and other medical conditions. Additionally, Professional Physical Therapy operates a 20,000 square foot sports performance training facility in Garden City, New York. http://www.professionalpt.com.