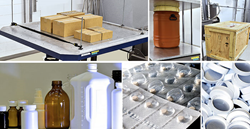 It makes sense to use a "one-stop-shop" for the testing services required to develop your product, bring it to market and fulfill post marketing testing requirements
Whitehouse, NJ (PRWEB) October 31, 2016
In today's business world, there is a myriad of testing requirements for medical and pharmaceutical products, including performance evaluation, product and package validation, and regulatory compliance certification, to mention a few. Additionally, many medical and pharmaceutical companies have to complete strict approval and quality processes before a vendor or service provider can be used by their engineering or research departments. These processes include quality audits on site, vendor surveys, quality department review and assessments, and other administrative processes. These vendor approval processes often result in significantly increased direct costs and valuable lost time to market for product development.
"To reduce costs and improve the time to market for our customers' products, Whitehouse Labs is continually expanding its services within the medical and pharmaceutical space to include a wider portfolio of services in one location and under the same quality standards, as an ISO 17025 certified, cGMP facility," says Mark Stier, General Manager. "In today's world, where working with many vendors and service providers is extremely complicated and bureaucratic, it makes sense to use a 'one-stop-shop' for the testing services required to develop your product, bring it to market and fulfill post marketing testing requirements."
Whitehouse Labs' product and packaging testing services include:

Microbiology
Medical Device
Extractable and Leachables
Drug Delivery Device Testing
Container Qualification
Container Closure Integrity
Package Testing and Validation
Analytical Chemistry
Stier continues, "When it is possible for a manufacturer to reduce its vendor list and use only one competent and dependable test laboratory that can handle their testing requirements, they will do it. Whitehouse is determined to be that testing laboratory."
About Whitehouse Laboratories
The leader in testing, Whitehouse Labs, a division of Albany Molecular Research Inc. (AMRI), offers comprehensive analytical services, providing support for manufacturing from development to market. From analytical chemistry and material qualification to packaging optimization, Whitehouse Laboratories is the testing partner for the world's leading pharmaceutical, biotechnology, medical mevice, life sciences and consumer products organizations.