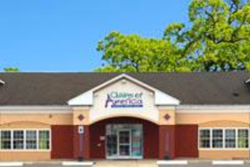 "As a company we see PRE-K FOR PA as a partner, giving families access to the very best in quality childhood education." says Jim Perretty, CEO
FLORIDA (PRWEB) October 20, 2016
Florida based Children of America, LLC welcomes State Senator Bob Mensch, 24th District of PA to its Lansdale PA facility Thursday, October 20th. The event advances Children of America's commitment for all Pennsylvania children to have access to high-quality early learning opportunities.
"It's prudent to further our commitment to this issue." says Children of America, CEO Jim Perretty, "As a company we see PRE-K FOR PA as a partner, giving families access to the very best in quality childhood education."
"Our goals mesh. We're committed to quality programming and preparing young children for advanced education and PRE-K FOR PA is committed to the accessibility of these services " Perretty added.
PRE-K FOR PA's goal is by 2022, every at-risk child will have access to a high-quality pre-kindergarten program and middle-income families will more easily afford these services for their children.
Children of America is the product of years of development and research expanding its programming to include a proprietary book series written for children, a staffed nutritionist for school meal planning, private nutrition consultations and family recipes and tips and our daily reporting tools for parents, updating the daily progress of each child. Children of America's commitment to the family and child is paramount to the company philosophy.
About Children of America
Children of America operates facilities throughout Delaware, Illinois, Indiana, Maryland, Massachusetts, New Jersey, New York, North Carolina, Ohio, Pennsylvania, Virginia and Wisconsin. The company plans to open 50 new facilities across the country over the next five years. COA offers the highest level of care for children ages six weeks to twelve years of age. The premier programs include infant care, toddler care, nationally renowned preschool and pre-kindergarten programs, before-and-after school care, and summer camp. An industry pioneer, Children of America is a subsidiary of World Wide Child Care Corp. Visit childrenofamerica.com for more information or interact with COA on Twitter and Facebook.