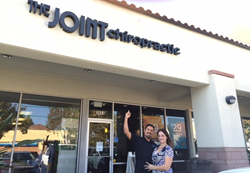 We want to be part of the community, and we want to help those doing good work in the community whenever we can
Pasadena, California (PRWEB) October 21, 2016
Pasadena is steeped in history. The Rose Bowl and Parade. Caltech. Jackie Robinson. All of these local institutions had a start date, and so The Joint Chiropractic joins the local landscape with its grand opening on Nov. 4.
The Joint event not only provides a great deal for easy chiropractic care, but launches its arrival by raising funds for the charity Alliance for Housing and Healing.
"We want to be part of the community, and we want to help those doing good work in the community whenever we can," said operations manager Heidi Campos, who also manages a popular clinic in Glendale. "Our grand opening is a great opportunity for people to experience the benefit of a spinal adjustment and contribute to a great cause in the process. Having an adjustment does more than fix a sore back, it can affect the quality of your immune system, the quality of your sleep, the quality of your mental alertness, the quality of your life."
The Joint Pasadena offers extended hours, and is open seven days a week. It takes a holistic approach to healthcare that encourages weekly or monthly adjustments to remain in peak condition. The Joint offers care plans for adults and children without the hassle of insurance or appointments while providing extended business hours seven days per week, and membership to The Joint Pasadena extends to more than 350 franchises nationwide. Whether you're a golfer who plays Brookside, a high school athlete trying to reach the CIF playoffs, or a soccer mom in Hastings Ranch, The Joint has an affordable personalized healthcare plan that can work for you.
The Joint is offering a free adjustment and recommending a $10 donation during its grand opening on Friday, Nov. 4, 10 a.m - 7 p.m. All proceeds will go to Alliance for Housing and Healing. Additionally, The Joint Pasadena will donate $10 for everyone who takes advantage of The Joint's monthly wellness plans.
Campos says the goal is to raise at least $500 for Alliance for Housing and Healing, a non-profit dedicated to providing housing for HIV/AIDS patients and delivery of related services through a commitment and collaboration through businesses, governments at all levels, faith communities and educational institutions.
Raffle prizes, refreshments and other goodies will be part of the festivities between 3 p.m. - 7 p.m. at The Joint Pasadena, located at 3653 East Foothill Boulevard, 91107. It is open now, and can be reached at 626-351-0253. It's open Monday-Friday, 10 a.m. to 7 p.m., and weekends 10 a.m. to 5 p.m.