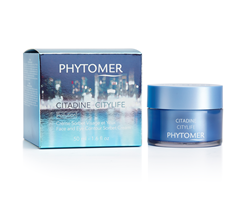 CITYLIFE not only sweeps away toxic micro particles but provides an ultra moisturizing facial experience.
SAINT-MALO, FRANCE (PRWEB) October 21, 2016
Available in select spas in the United States October 2016 and at http://www.phytomerusa.com
Expert in skin depollution for 20 years, Phytomer launches the newest product within the anti-pollution collection: CITYLIFE. Formulated in a refreshing sorbet texture and suitable for the eye contour, CITYLIFE re-oxygenates tired skin thanks to a powerful cocktail of marine ingredients. A combination of three marine sugars create active ingredient, CITYSAFE to depollute, cleanse and oxygenate the skin. CITYSAFE, along with blue and red algaes and Phytomer's patented seawater concentrate, Oligomer® reset skin, repairing damage caused by pollution, signs of fatigue, dark spots and a dull complexion. CITYLIFE not only sweeps away toxic micro particles but provides an ultra moisturizing facial experience. The sorbet cream is enriched with phospholipids and oils to provide a light, fresh texture for all skin types.
CITYLIFE Face and Eye Contour Sorbet Cream.........50 ml, suggested retail price, $119.00
Directions for use: Apply morning and evening to clean skin.
Key ingredients:

CITYSAFE + blue micro algae and red algae - a combination of three marine sugars formulated via marine biotechnology to decongest, treat dark spots and improve cellular vitality. Acts as an anti-pollution shield.
Oligomer® - sodium-reduced seawater concentrate. Strengthens the ability of the skin to breathe properly in a polluted environment and boosts skin with minerals and trace elements.
Clinical Results:
ANTI-POLLUTION VEIL
-47% of micro particles on the skin after the 1st application*
SKIN REGAINS ITS PURE BEAUTY
More hydration: Immediately**
More radiance: In 1 week***
Less dark circles, puffiness and dark spots: In 1 month***
*Single application of CITYLIFE, exposure to micro particles, rinse then measurement of the amount of micro particles .**Measurement of the level of hydration by cornemetry on 12 volunteers, 15 minutes after single application. ***Self-scoring. Application twice-daily for 7 to 28 days on 24 women.
Phytomer at a glance:
With over 40 years as the leader in the marine skin care, Phytomer is now a pioneer in the field of marine biotechnology, the future of results-oriented cosmetics. This is the newest technology to create innovative, 100% natural skin care ingredients. Based in Saint-Malo, France and distributed in 70 countries worldwide, Phytomer has a reputation of leadership and expertise within the spa industry. With Phytomer meaning "plant of the sea," we utilize seawater, seaweed or seaside plants in every retail and professional product, combining science with the natural powers of the sea. We are one of the only spa brands with our own laboratory, allowing us to research and cultivate our own ingredients, develop unique cosmetic formulas, manufacture skin care products and create cutting-edge professional treatments to deliver remarkable results.