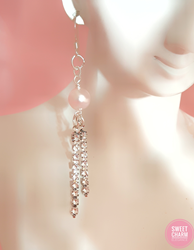 Our company has always been about creating the most feminine, beautiful pieces. This collection showcases our signature style and our love of pink
BOSTON, MA (PRWEB) October 24, 2016
Sweet Charm Elegance introduces new couture jewelry line, showcasing the ultimate feminine color pink. Inspired by fashion runways of Paris and New York, Sweet Charm Elegance's new collection features designs that showcase the simple glamour of the color pink. Gorgeous hues of pinks, roses and fuchsia sparkle with the brilliance that is synonymous with Swarovski© brilliance.
Shimmer and shine with our Simply Pink twinkle dangle earrings, that features a single, soft pink pearl with cascading Swarovski© crystals. Designer inspired, this pieces is one of our most popular design.
The brilliance of Swarovski© is the center of attention with our hot rose rivoli crystal earrings- the ultimate gorgeous pink bling that will draw all eyes on you.
Soft pink hues are highlighted in our Simply Pink cotton candy stretch bracelet, a delicate piece that showcases our signature style — stunning bling without the designer prices.
The sparkle of the world-famous Swarovski© crystals brilliantly shines in our new collection. The finest quality stones in each Sweet Charm Elegance piece are the real deal — all stones are bought from certified and reputable Swarovski© dealers. Each piece in all our collections are exclusively designed with Swarovski© crystal beads and antique luminous pearls.
Sweet Charm Elegance is a small company based out of Boston, MA. Currently, Sweet Charm Elegance will be gifting multiple pieces to TV shows and upcoming award shows. Most recently, Sweet Charm Elegance has been featured in the 2016 Billboard Music Awards, fashion bloggers Blondie in the City and The Boston Fashionista, March 2016 issue of Woman's World, The National Examiner, Girls World, news outlets, such as Univision D.C., and other online blogs. Sweet Charm Elegance continues to design eye-catching, gorgeous jewelry. Every woman deserves to sparkle.