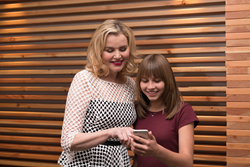 Girls can be pretty tough on themselves and each other regarding self image, because media is mostly interested in showing us the beautiful people... and standards that are unrealistic. - 13 year old Mercer Henderson
LOS ANGELES, CALIFORNIA (PRWEB) October 20, 2016
This week during the Global Symposium on Gender in Media at Google, teen entrepreneur Mercer Henderson, Founder of the popular sound based emoji keyboard Audiots and Geena Davis' Institute at Mount Saint Mary's University, announced a collaboration that would drive greater awareness to Generation Z by leveraging emojis to inspire girls to pursue their dreams.
As a 13 year old teenager, Henderson sees everyday the impact that the media has on her friends and their self esteem. She recognizes that the number one issue amongst teen girls is body and self image. "Some of my friends compare themselves to photos they see on social media, and it becomes harder for them to be happy with who they are," said Henderson. "Girls can be pretty tough on themselves and eachother regarding self image, because media is mostly interested in showing us the beautiful people... and standards that are unrealistic."
For Geena Davis, the partnership is equally as fruitful. "Mercer is close to my daughter's age, so I truly recognize the power of emojis for girls to express their emotions," said Davis. "We are so honored to partner with Mercer, who not only founded a technology company, but is leading by example that girls can be leaders."
To support the Institute, Henderson has created a 15-pack of See Jane Audiots that emit "Inspiring Messages for Girls." Examples of the audio that will accompany the emojis (in addition to being able to customize), include:
"Be your own hero, Supergirl!"
"Just the way you are BFF!"
"If you can see it; You can be it!"
"Get behind the camera girl!"
Girls are less likely to see themselves as technology entrepreneurs, programmers, or in many cases, leaders in their community. Why? Because that's not how girls and women are portrayed in media. According to the GD-IQ report, male characters received two times the amount of screen time as female characters in 2015. Mercer and Geena are out to change that.
The SeeJane pack is available for $1.99 and proceeds will go directly to The Geena Davis Institute on Gender in Media, to help support their work with women. The pack will be updated in the coming months with new emojis from other celebrities.
About Audiots
Audiots is an iOS app that mashes together sound and emojis. In 2016, Audiots announced "Audiots 4 Good," a philanthropic arm of the company focused on, simply, "doing good." She believes that Generation Z will the change agents in history, as they are the most socially aware, and is excited to continue using the power of her extensive database of emojis to do just that. She refers to her group of friends as "Gen G - Generation for Good." In recent months, she has partnered with both the SF SPCA, the Breast Cancer Foundation, with proceeds from the app packs going directly back to supporting those organizations.
Download Audiots: https://itunes.apple.com/us/app/audiots/id1078710105?mt=8
About the Geena Davis Institute on Gender in Media:
Founded in 2004 by Academy Award®-winning actor Geena Davis, the Geena Davis Institute on Gender in Media at Mount Saint Mary's University is the only research-based organization working with media and entertainment companies with cutting-edge research, education and advocacy programs to dramatically improve how girls and women are reflected in media targeting children 11 and under. For more information, visit: http://www.seejane.org.