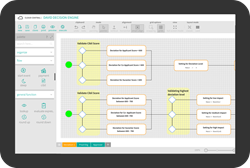 Sausalito (CA) (PRWEB) October 20, 2016
In this disruptive age, market trends and innovations are changing faster. Organization are now more data oriented in comparisons to last decade. Being data centric, majority of the organizations are now relying on system driven decision making for delivering instant fulfilment and hence, great customer experience.
To accelerate the time to market and exponential increase scalability, CRMNEXT, the World's #1 Enterprise CRM solution, has developed David Decision Engine ™, which is a powerful business rule engine to churn complex data calculations and deliver robotic decisions creating smart automated journeys. It is a revolutionary tool helping financial CRM services including banking, securities, insurance to create new revenue streams and drastically shrink sales cycles by automating end-to-end processes with zero manual interventions. All financial products buying processes including loans, insurance, checking accounts, wealth management can be automated completely with the help of the new David Decision Engine.
Speaking about the new features, Dr. Manoj Kumar, Chief Product Architect at CRMNEXT, said "David Decision Engine™ has a powerful visual interface to automate complex business decisions with elements for calculations, structuring logic and executing actions. The engine is very intuitive and easily gets adopted by both, Business and IT users"
With David Decision Engine™ you can create intelligent processes with complex calculations as per defined business rules with the power of a simple, intuitive visual designer. It also automates key workflows and decisions like credit approval, risk underwriting, deviations, validations etc. for instant customer gratification and fulfilment. A user can easily modify existing rules, workflows 80% faster with drag and drop designer to roll out changes as compared to traditional business rule engine solutions.
Now businesses can on-board customers securely, faster and increase compliance without worrying about integration complexities and achieve unmatched time-to-market by rapidly automating processes with smart business rules.
CRMNEXT has been credited with having three of the world's largest five Banking CRM installations. Over the past decade, it has been closely working with Fortune 1000 global banks and insurance companies. The platform has enabled these organizations to experience seamless sales and service management, Reporting and Analytics, and deep knowledge management.
Results have been quite a testimony to CRMNEXT's depth and ability. Deployed at HDFC Bank for the past 8 years, it has resulted in a 52% increase in the service quality and 200% improvement in the Sales Turn-around Time (TAT). At Bajaj Auto Finance it has implemented a digital loan origination system with automated-underwriting and decision-making available at all dealer locations. This has enabled to complete the loan approval process in less than 3 minutes, delivering faster sales and a hassle free, seamless experience to the customers. CRMNEXT believes that similar tools will impact the entire financial business ecosystem by redefining customer interactions while necessitating new innovative internal processes and employee skills to support these interactions.
About CRMNEXT :
CRMNEXT is the #1 global enterprise CRM solutions provider. It has practice leadership across nine verticals assisting businesses from SMEs to Fortune 500 businesses in optimizing customer relationships. CRMNEXT closely works with its stakeholders leveraging extensive domain expertise to enhance business efficiency and improve processes. Its growing success in the global market is a testament to CRMNEXT's combination of competency and commitment to results. For more information, visit: http://www.crmnext.com