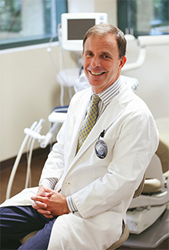 Winston-Salem, NC (PRWEB) October 20, 2016
Dr. Kenneth Peavy, a noted periodontist, now accepts new patients who are in need of sedation dentistry in Winston-Salem, NC, with or without a referral. Dr. Peavy and his team understand that many patients experience dental fear or anxiety that limits their ability to receive the treatment they need. This is why Dr. Peavy is not only offering sedation services, but specializes in minimally-invasive techniques to improve patient comfort and oral health.
Dental fear is a potentially dangerous condition that affects millions of people around the world. While the condition itself does not cause harm, its effects could lead many patients to avoid essential treatment. When patients fail to receive treatment, infection and periodontal disease may be causing damage to the teeth and gums. Patients with dental fear can now use the latest advancements in sedation dentistry strategies to treat their anxiety and receive the help they need in order to maintain proper oral health.
In addition to offering some of the most minimally-invasive treatments, such as the Chao Pinhole® Surgical Technique and the LANAP® laser dentistry protocol, Dr. Peavy offers many different kinds of sedation to fit his patients' individual needs. Oral sedation simply involves taking a pill that will help patients relax before and during their procedure. Many people become so relaxed they do not even remember being treated. IV conscious sedation is also available. This technique allows Dr. Peavy to precisely control each patient's level of sedation through a customized treatment plan. In addition to general anesthesia, Dr. Peavy also offers nitrous oxide, or laughing gas, as well as local sedation.
Patients who may benefit from sedation dentistry in Winston-Salem, NC, are invited to contact Dr. Peavy's office to schedule an appointment by calling 336-774-3001. Dr. Peavy is excited to work with each patient to customize a sedation dentistry treatment to get them the treatment they need.
About the Doctor
Dr. Kenneth Peavy is a periodontist offering personalized dental care for patients in Winston Salem, NC, since 1996. Dr. Peavy completed his undergraduate studies at the University of North Carolina at Chapel Hill. He earned his dental degree at the Medical University of South Carolina in 1989, College of Dental Medicine. He finished his residency program in General Dentistry at the Medical College of Georgia and his certificate in periodontics at the Medical University of South Carolina. He also earned his Master's Degree in Health Sciences. Dr. Peavy joined an exclusive group of doctors to offer The Pinhole Surgical Technique (PST™) for gum recession treatment. To learn more about Dr. Peavy and his dental services visit his website at http://www.happygumshop.com and call (336) 774-3001.