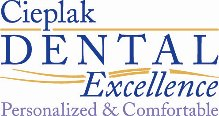 La Plata, MD (PRWEB) October 20, 2016
Dr. Patrick Cieplak now accepts new patients without a referral for orthodontics in La Plata, MD. Dr. Cieplak is committed to utilizing the latest and most effective dental techniques, including discreet and effective Invisalign® treatments. Dr. Cieplak is one of only 3,000 dentists who have received the Academy of General Dentistry's Master's Degree and is highly experienced in many different dental treatments.
For more than 30 years, Dr. Cieplak has been serving his community by providing cutting-edge, customized dental care and orthodontics in La Plata, MD. He is proud to offer Invisalign® as one of his treatment options and makes this service available to all orthodontic patients who want to improve the way their teeth look without wearing more noticeable traditional braces. Clear braces are not only preferred by some patients because of their nearly invisible appearance, but they are also comfortable to wear. Since clear braces do not come with brackets or wires that can potentially get caught on the sensitive skin of the lips and cheeks, many patients find that they are more comfortable than wearing traditional braces.
Invisible aligners can be removed as needed for eating and cleaning purposes. They can also be removed for special occasions including speaking engagements, but should be worn according to Dr. Cieplak's instructions for best results. Every few weeks, Dr. Cieplak provides customized new aligners to help ensure that the patient's teeth continue to move in the desired direction. Once treatment is complete, the patient receives a retainer to be worn at night. The retainer helps to ensure that the teeth do not shift back to their original positions. Dr. Cieplak also offers 6 Month Smiles®, ClearCorrect™ and Fastbraces® to ensure that he treats patients according to their specific orthodontic needs.
Patients with crooked teeth are invited to receive orthodontics in La Plata, MD from Dr. Cieplak's practice. Invisalign® appointments can be scheduled by calling 301-609-9999 to speak with a Cieplak Dental Excellence team member.
About the Doctor
Dr. Patrick Cieplak is a general dentist offering personalized dental care to patients in La Plata, MD. Dr. Cieplak is dedicated to learning the latest dental techniques and has completed hundreds of hours of continuing education courses. Dr. Cieplak is one of only 3,000 dentists to receive the Academy of General Dentistry's Master's Degree and he is a Fellow in the International Congress of Oral Implantlogy as well as Associate Fellow in the American Academy of Implant Dentistry. Cieplak Dental Excellence strives to offer each patient customized treatment to help them achieve proper oral health. To learn more about Dr. Cieplak, his team or the services they offer, please visit http://www.patcieplakdds.com or call (301) 609-9999 to schedule an appointment.