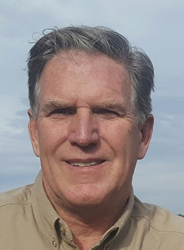 "Every day, we all use paper and wood products, and Steve is the best choice for a balanced supply of these products while working to protect our forest health."
Olympia, WA (PRWEB) October 21, 2016
With just weeks to go in the 2016 election, Washington state labor groups are rallying around Steve McLaughlin for Commissioner of Public Lands.
This week, McLaughlin added two more crucial endorsements to his campaign, including the Association of Western Pulp & Paper Workers (AWPPW) and the Washington Machinists Council. This is in addition to more than 20 major agricultural, labor, business, tribal and trade organizations, as well as the scores of other current and former elected officials, wildlife experts and small family forest owners who have already endorsed McLaughlin for state lands commissioner.
"The Association of Western Pulp & Paper Workers Union represents thousands of Washingtonians who work in pulp and paper manufacturing industries," said Greg Pallesen, vice president of the AWPPW. "AWPPW members are very concerned about fiber supply, forest practices, endangered species and environmental issues that impact our jobs and our environment. And like Steve McLaughlin, our AWPPW members are dedicated to the conservation of our environment while taking into account the economic stability of the workforce and our surrounding communities. We share Steve's desire to seek a balance between jobs and best practices for forest protection — between a sustainable yield of forest lands to promote forest health and good paying family wage jobs," he said.
"Every day, we all use paper and wood products, and Steve is the best choice for a balanced supply of these products while working to protect our forest health."
Dan Morgan, president of the Washington Machinists Council, said McLaughlin is the right leader to manage Washington state's natural resources and the thousands of employees within the Department of Natural Resources.
The Washington Machinists Council, representing more than 45,000 workers in Washington state, including thousands of woodworkers, recognizes the qualities of a good leader. Steve McLaughlin is that leader and he has expressed his commitment to the men and women whose jobs depend on working state forests. That is why the Washington Machinists Council has endorsed Steve McLaughlin for Washington's Commissioner of Public Lands."
Public Lands Commissioner oversees management of more than 3 million acres of trust land in Washington State for the benefit of schools and other beneficiaries. The position is responsible for managing the state's Department of Natural Resources, as well as oversight of the state's natural areas and aquatic reserves. The commissioner also oversees land transactions and serves as chair of the state's Forest Practices Board. The Seattle Times reports that temperance is needed in our next lands commissioner.
About Steve McLaughlin Steve McLaughlin is a lifelong conservationist and avid climber, hiker, hunter, and fisher. As a career naval officer, McLaughlin led complex organization with thousands of employees. He oversaw both forestlands and aquatic lands for the U.S. Navy (Everett Homeport has 5,000 acres of timber and extensive tidelands) and helped conserve one of the last stands of old growth in lowland Western Washington. McLaughlin is supported by labor unions, Native Americans, farm and business groups, and veterans, among others. For more on Steve McLaughlin's campaign, visit http://www.mac4lands.org. Paid for by Steve McLaughlin for
State Commissioner of Public Lands, P.O. Box 1001, Seabeck, WA 98380