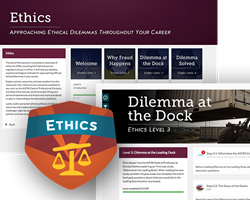 I think this course injects a lot more rigor and accountability on the part of the participant, and that it's a more engaging course.
Indianapolis, IN (PRWEB) October 20, 2016
Call it another "first" for Indiana and the CPA profession. A first-of-its-kind online, competency-based course on ethics is due to be released this week. It coincides with the effective date of a landmark rule change that makes Indiana CPAs the first CPAs in the nation to be able to take competency-based education as one of three options to meet the ethics requirement for CPA license renewal.
History was made in July with the adoption of the rule change for CPAs in Indiana that allows for competency-based education to count toward the profession's ethics requirement. The rule change also adds experience serving in an ethics capacity as a second new option. The rule change was signed by Indiana Gov. Mike Pence in September, and after being published for 30 days on the Indiana Register, it officially becomes effective on October 22.
In anticipation of the historic rule change - in the making since the fall of 2015 - the CPA Center of Excellence® developed a competency-based ethics course focused on the profession's Code of Professional Conduct that matches the intention of the new rule. Its online interactive format includes links to online articles, video components, case studies, real-time discussion with other course participants, and other participatory features within each of its various modules. The CPA Center of Excellence®, which is powered by the Indiana CPA Society, is a recognized leader in competency-based education.
Flexibility and convenience are other key attributes of the course. It can be taken on any type of device, from a smartphone to a desktop computer, and can be paused and resumed at various points to fit the course-taker's schedule. There is a 90-day window to complete the course. Upon successful completion, course participants receive a digital badge to verify their achievement.
"The ethics course that we are rolling out with the CPA Center of Excellence® requires each participant to be more accountable. It requires them to participate and engage in the course from start to finish," said Kent Williams, CPA, CGMA, of Russiaville, Ind., an associate professor of business at Indiana Wesleyan University and an ethics subject matter expert who helped develop the course. "I think this course injects a lot more rigor and accountability on the part of the participant, and that it's a more engaging course."
Competency-based education, which necessitates the demonstration and mastery of subject material before awarding successful completion, has proven to be a much more effective and retentive method of learning. Currently, professional education for CPAs in Indiana and other states uses an hours-based system in which participants must only count hours spent in a classroom or taking a webinar.
The new course has been tested by several INCPAS members, including the CPA Center of Excellence® Board of Directors and the INCPAS Ethics Committee. All of them have given it high praise and rave reviews.
"I think this new course is a really good option because you can do it at your own pace, which allows you to give it more thought," said Lorita Bill, CPA, of Lafayette, Ind., with Lorita K. Bill, CPA Consulting LLC. "I really found myself thinking about it after the course, and applying it to my educational experiences. It made me very mindful of what I learned after I was done with the course, and I don't remember having this same effect in a (prior) course I took on ethics that was classroom-based."
Joe Scheidler, CPA, of Indianapolis, a retired Crowe Horwath LLP partner, said: "I found the new ethics course to be excellent. It was thorough, covering professional standards and the role of the INCPAS Ethics Committee, but I particularly liked the case studies. Both cases involved real life situations facing CPAs and considered the situation from multiple perspectives. I also spent time considering responses of other participants. This course far exceeded the learning results of any prior ethics training I've completed."
BGBC Partners, LLC Managing Partner Steve Eichenberger, CPA, GGMA of Plainfield, Ind., summed up his thoughts in just a few words. "It's the best ethics course I have ever taken. As soon as it is available, I plan to purchase it for my entire staff."
The course is priced at $99, much less than most traditional classroom courses. It can be purchased by CPAs nationally and even globally through the CPA Center of Excellence®, although in other states it does not currently count toward CPA license renewal. The Center also offers six other online competency-based courses that cover vital business skills such as leadership and critical thinking. For more information on or to register for the new ethics course, go to cpacoe.com/ethics. To watch more about how it works, go to this Ethics course overview video.
The CPA Center of Excellence® was established in 2014 to enhance vital skills for the success of CPAs and other professionals through competency-based learning and intelligent collaboration. It recently received the prestigious national Power of A Summit Award from the American Society of Association Executives on October 5 in Washington, D.C. The Indiana CPA Society became the first state CPA society to receive a Power of A Summit Award in the 17 years that the award has been in existence.
###
About the CPA Center of Excellence
The CPA Center of Excellence, Inc. is a wholly-owned subsidiary of the Indiana CPA Society. Its mission is to enhance vital business skills for the success of CPAs and other professionals.
It consists of five components: the Insight HR & Career Development Toolkit for skill assessment, a handbook titled CPA Excellence A Quick Start Guide to Defining and Mastering Vital Skills for Success, a series of online interactive competency-based courses based on vital business skills, a multi-featured online community, and member networks in which CPA colleagues interact with each other in person and online.
For more information about the CPA Center of Excellence®, contact Dave Shatkowski at (317) 726-5022 or dshatkowski(at)incpas(dot)org.