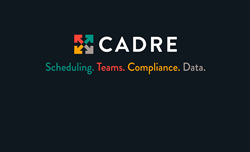 "Cadre is the only scheduling software designed for contingent talent. It uniquely allows employers to tap in to the gig economy while remaining compliant with the various laws at the city, state, and national levels." Kathy Harrell-Latham CEO
Minneapolis, MN (PRWEB) October 24, 2016
Cadre, a cloud based scheduling platform used by employers of contingent talent, will officially launch at Staffing World. Staffing World is hosted by the American Staffing Association and is the largest conference for staffing and recruiting companies in the United States.
Cadre integrates seamlessly with existing systems to eliminate the need for mass text messaging or emailing to schedule contingent talent. Cadre provides unparalleled tracking of city ordinances and insights into candidate requirements to enable employers to more effectively fill jobs. "Companies are facing regulatory complexity at every level of their organizations," said Kathy Harrell-Latham, CEO of Cadre. "It makes sense to provide a solution that provides real time data seamlessly at every step of the Talent Acquisition and management process that is unique to temporary or contingent talent."
Cadre's comprehensive dashboard will help employers manage their jobs and candidates with insights into the best time to reach candidates, which candidates are most likely to drop from a project, and jobs subject to city ordinances requiring paid time off for sick or safe time. An innovative feature even allows employers to better focus their efforts when they are unable to fill their need with their current candidate pool.
Cadre Chief Operating Officer David Young notes: "Cadre presents the critical opportunity for employers of contingent talent to improve their internal procedures so that they can focus on maximizing their growth while also helping put jobseekers to work when they are available. This presents an unprecedented opportunity for both the employer and job seeker to openly and effectively discuss the critical terms that gets both the desired results."
Cadre can be used individually or in conjunction with existing HR systems such as an Applicant Tracking System or Vendor Management System, giving companies flexibility and opportunity to leverage the tools without a complete overhaul of their existing technology. Cadre can also be customized to provide notifications and reporting unique to each employer's business and location. Kathy Harrell-Latham said "This presents an unique opportunity for growing companies to understand the regulatory requirements at the smallest levels (city) at the time of recruiting for a position."
With pricing packages starting at $47 per month, customers can expect tremendous economic benefits including cost savings, reduced overhead, and the ability to focus on more meaningful business activities or revenue generation.
"It's difficult to quantify just how much can be saved through the implementation of a more efficient recruiting process because there is currently no ability to receive such critical business information in real time. Companies are spending countless hours reading through emails and text messages on top of everything else that is required to run their business and manage a workforce in a competitive talent market," says Young.
With a variety of competitive pricing options and array of customizable compliance and reporting features, Cadre is the flexible, affordable option for employers of contingent talent to expand their business, help people find work faster, and remain compliant with the increasingly complex regulations at the city, state and national levels.
The launch of Cadre comes at an important time in the industry. The contingent workforce is estimated to represent 40% of the workforce by 2020. Each week there are roughly 3 million people employed nationally by staffing firms with countless more individuals employed directly by companies. This is at least a $130 million industry which is continuing to experience explosive growth. At the same time of this growth, there is a wave of scheduling laws that directly impact the ability of these businesses to continue to remain profitable. Cadre automates a number of these procedures to ensure compliance and cost savings at a time when companies are facing unprecedented demand with unprecedented regulation.
About Cadre
Cadre offers a scheduling solution resolving talent acquisition challenges and that candidates will actually use. Their insights enable employers of contingent talent to capture real time information of candidate availability, rate requirements, and probability of filling positions. Cadre is the only cloud based platform that tracks and provides reporting of the scheduling laws enacted at the state and city levels. This service enables employers to avoid considerable administrative burden while strategically assessing the best location or pricing for their contingent workforce. Cadre does this through a mobile application, Timeku, on users' smartphones making the solution portable for candidates across employers and syncing all of their scheduling and calendar information in one place.
Contact Information
Kathy Harrell-Latham
Cadre
cadrescheduling.com
kathy(at)cadrescheduling(dot)com