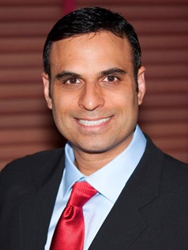 Oak Brook, IL (PRWEB) October 20, 2016
Dr. Amarik Singh, a distinguished periodontist, celebrates National Dental Hygiene Month by educating patients on the risks of untreated gum recession in Oak Brook, IL. Dr. Singh now accepts new patents for gum recession treatment without a referral. Receding gums can expose the tooth root if they are not treated quickly and can eventually lead to gum disease and a host of systemic issues. Patients who experience any of the common symptoms of gum recession, including increased tooth sensitivity, elongated appearing teeth, loose teeth and tooth loss, should promptly be treated by a qualified periodontist.
Dr. Singh invites new patients with gum recession in Oak Brook, IL, to take advantage of National Dental Hygiene Month by receiving treatment at his practice. Dr. Singh offers treatment with the revolutionary Chao Pinhole® Surgical Technique. This technique treats gum recession in a quick and minimally-invasive manner. Patients who do not want to receive one or more gum grafts as treatment for their receding gums are encouraged to discuss the benefits of the Chao Pinhole® Surgical Technique with Dr. Singh.
Unlike traditional treatment options for moderate to severe gum recession, the Chao Pinhole® Surgical Technique effectively corrects the gum line without scalpels or sutures. This innovative procedure is performed by making a small hole directly in the gums above the receded site. Dr. Singh uses the minor hole as an entry point to adjust the gums to a natural position. The safe and gentle procedure limits tissue trauma and allows for only minimal bleeding. Recovery time is shorter compared to traditional solutions and most patients can immediately return to their normal routines after treatment.
Patients with gum recession in Oak Brook, IL are urged to meet with Dr. Singh, a trusted periodontist, to learn more about the benefits of the highly effective and gentle Chao Pinhole® Surgical Technique. To schedule an appointment, patients are invited to call Periodontal Implant Associates at 630-424-9404.
About the Doctor
Periodontal Implant Associates is a periodontal practice offering personalized dental care for patients in Oak Brook, IL and the Chicago area. After graduating from Northwestern University Dental School, Dr. Amarik Singh went on to obtain his Specialty Certificate in Periodontics and earn his Master's from Northwestern University. Dr. Singh is deeply committed to continuing education and prides himself on remaining on the cutting-edge of the newest techniques and technology in dentistry. Dr. Singh has placed over 15,000 dental implants using a minimally-invasive technique and is part of an elite group of dental professionals at the forefront of the Chao Pinhole® Surgical Technique (PST™), a revolutionary new approach to repairing gum recession. To learn more about the periodontal services available at Periodontal Implant Associates, please visit http://www.pidentists.com or call (630) 424-9404.