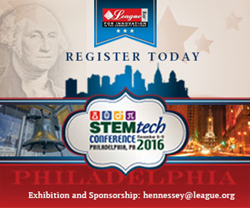 Chandler, AZ (PRWEB) October 24, 2016
The League for Innovation in the Community College and Innovative Educators are pleased to announce the selection of the 2016 Terry O'Banion Student Technology Award winners. The awards are presented to students pursuing their education and a career in technology, and given annually in honor of Terry O'Banion, Senior League Fellow and President Emeritus of the League.
Award winners are designated as Student Technology Champion or Student Developer Champion. Student Technology Champion awards are presented to students with a career interest in a technology field. Student Developer Champion awards are presented to students with a career focus specifically in software development. This year, two recipients were recognized in the category of Technology Champion and one as Developer Champion. Each winner will each receive a $2,500 scholarship to be used toward their educational expenses (e.g., tuition, fees) and a plaque commemorating their achievement. The awards will be presented at the 2016 STEMtech Conference in Philadelphia, Pennsylvania, November 6-9.
Each of these outstanding students demonstrates a passion for technology, a commitment to their education and community, and financial need. All three recipients possess exceptional qualities and have remarkable life stories to tell, all of which sparked the interest of the selection committee. Here are this year's winners by category:

Benjamin Carpenter, Student Developer Champion attending Johnson County Community College, Overland Park, Kansas
Katrina Zayas, Student Technology Champion attending Valencia College, Orlando, Florida
Michael B. Sammons, Student Technology Champion attending Kirkwood Community College, Cedar Rapids, Iowa
Student Developer Champion: Benjamin Carpenter
Benjamin Carpenter is a freshman enrolled in Johnson County Community College's Web Development & Digital Media program. Ben has undertaken, on a voluntary basis, the building of a personal food computer (PFC). The food computer movement is led by the MIT Media Lab Open Agriculture Initiative. These computers are built from scratch and only a few currently exist. The PFC supports sustainability goals and can grow food in any location, regardless of climate, addressing global hunger and nutrition. Ben maintains a 4.0 GPA, and, after earning a two-year Computer Science A.A.S. at Johnson County Community College, he plans to transfer to a four-year university to complete a bachelor's degree. "Ben's joy, curiosity about how things work, and patience make him an exceptional candidate for this honor," states Professor Lisa Friedrichsen.
Student Technology Champion: Katrina Zayas
Katrina Zayas is enrolled in Valencia College's Information Technology program. Overcoming a challenging early life, she is working her way through college and has earned top grades and a spot on the President's List, and is also a member of Phi Theta Kappa. As the first female Vice President of Valencia's Technology Club, she has volunteered over 150 hours to teach students computer programming, and provides computer repair services for students. Katrina was on the winning team of the Deloitte Challenge, in which students are asked to come up with a real-world solution to a problem that the firm is facing. Her instructor, Heith Hennel, explains that this scholarship will help Katrina reach her goal of obtaining a bachelor's degree in information technology. He confirms, "This scholarship will really help. You will never meet a more well-mannered, high-achieving, goal-setting student."
Student Technology Champion: Michael B. Sammons
Mike Sammons is enrolled in Kirkwood Community College's innovative Energy Production and Distribution Technologies program. Mike was recommended for this award based on his outstanding academic performance and aptitude placing him in the 99th percentile of his class. Mike is ambitiously pursuing two honors programs, an unprecedented achievement in his department. He is developing his own version of FarmBot Genesis, which seeks to automate small-scale and greenhouse farming to get more fresh produce to more people in the most economical way. As his instructor Chad Dougherty asserts, "During the past year, I have had a chance to work with Mike on a number of occasions. He is an exceptional student and a joy to have in the classroom. His creativity and inquisitive mind are an absolute pleasure."
The award is sponsored by Innovative Educators and the League for Innovation.
About Innovative Educators
Innovative Educators is dedicated to providing superior training focused on critical issues facing students and educators today. The primary goal is to provide the information, training, and skills necessary to implement positive change on a personal, professional, and institutional level. Learn more at http://www.innovativeeducators.org.
About League for Innovation
The League for Innovation in the Community College (League) is an international nonprofit organization with a mission to cultivate innovation in the community college environment. The League hosts conferences and institutes, develops print and digital resources, and leads projects and initiatives with almost 500 member colleges, 100 corporate partners, and a host of other government and nonprofit agencies in a continuing effort to advance the community college field and make a positive difference for students and communities. Information about the League and its activities is available at http://www.league.org.