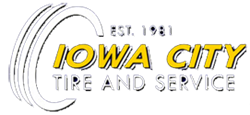 Brown is also pleased and proud to announce that this year makes the 35th anniversary for IC Tire.
Iowa City, IA (PRWEB) November 10, 2016
Wrestling is a favorite sport in Iowa and Iowa City Tire & Service is announcing a giveaway of a pair of season tickets for Iowa Wrestling for some lucky pair of customers. In addition, Iowa City Tire & Service will be conducting drawings for select Iowa football games.
It's part of Iowa City Tire & Service's connection to the local community and part of a long-standing tradition with this dealership.
"My father Bill Brown started IC Tire in 1981 and I joined in '82," said owner Mike Brown. "We have always had some family members that worked here, our other employees I feel are treated just like family as well. We have always been supporters of the local community and things like little league, girls softball, show choirs... we did a fundraiser for a high school show choir for new uniforms and raised $4,000. We also raised 8,000 to help send local parents to the Olympics a few years ago to watch their sons wrestle. It's a good feeling to be able to help this way."
Brown is also pleased and proud to announce that this year makes the 35th anniversary for IC Tire. It's hard to keep any establishment in business for that long, and while vehicles and technology may have changed a great deal since the early 80s, IC Tire still trades on the same values and principles: excellence in automotive repair, great deals on premium brand tires and friendly, personalized customer service. In light of this important milestone, IC Tire is happy to enhance their engagement in the community by giving away tickets for Iowa Wrestling.
Iowa City Tire & Service serves the Iowa City area with auto repair and maintenance such as wheel alignments, brake service, cooling system repair, transmission maintenance and oil changes. They also offer great deals on top-brand tires from Goodyear, Continental, Michelin and more. They are thrilled to be able to offer these tickets for sports events, as a way to give back to the Iowa City community. With 35 years serving customers in Iowa City, one thing is for certain…IC Tire is here to stay.
Ictire.com is powered by TCS Technologies. TCS Technologies, a Microsoft Certified Partner, develops and markets both off-the-shelf and custom tire software solutions, web applications, ecommerce platforms, and support and consulting services to tire and automotive service companies across the US and Canada. As the industry's only full-service technology provider, TCS has built a product base which continues to prove itself as a revenue increasing, business streamlining asset to any size tire or automotive service business. TCS has tools unmatched in the industry, and customization within each of its products to cater to the way tire dealers and retreaders do business. TCS's home office is located outside Nashville, TN with a second location in Salt Lake City, UT.