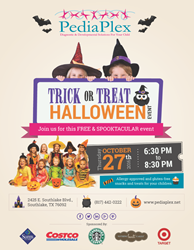 "We're excited to be able to provide a safe and fun Halloween event that both kids and their families can enjoy worry-free," said Sonia Kirkpatrick, CEO and Founder of PediaPlex.
South Lake, Texas (PRWEB) October 24, 2016
Halloween is quickly approaching, and that means decorations, costumes, trick-or-treating, and more. For children with special needs, safely navigating neighborhoods in the dark can be challenging, and not every home offers goodies that are allergy-approved or gluten-free to address special dietary restrictions. To ensure that all children feel included and have a fun night where they can celebrate safely, PediaPlex is hosting its own Trick-or-Treat Halloween Event on Thursday, October 27, from 6:30-8:30 p.m.
This free event will be filled with fun and games, festive decorations, and trick-or-treating throughout PediaPlex. Parents don't have to worry about their children knocking on strangers' doors, trying to navigate the uneven terrain of neighborhoods in the dark, or receiving candy they may not be able to enjoy. There will be plenty of allergy-approved and gluten-free treats available.
It is often difficult to tell what allergens or ingredients may be present in candy or other treats when it is out of its original bag. Individual pieces of candy may not be clearly labeled with ingredients or allergen warnings. PediaPlex has selected allergy-approved and gluten-free candies and snacks for distribution so that parents can have greater peace of mind and children can trick-or-treat with confidence. Trick-or-treating throughout PediaPlex also removes some of the elements of the evening that children may find scary or overwhelming and creates an atmosphere of fun.
"We're excited to be able to provide a safe and fun Halloween event that both kids and their families can enjoy worry-free," said Sonia Kirkpatrick, CEO and Founder of PediaPlex.
In addition to trick-or-treating, there will also be games for children to play and prizes to win. Vendors will be on hand offering a variety of food options; Starbucks is donating tea and Nothing Bundt Cakes has graciously donated delicious desserts. Several other sponsors have also come together to make this event a success, including Sam's Club, Costco and Target, who have donated gift cards for food and candy. Fusion Academy will also participate in handing out candy and will have a booth to discuss and share information about the services they provide.
Families are invited to come out for a free evening of fun and celebration at PediaPlex. This spooktacular event will be held on Thursday, October 27 from 6:30-8:30 p.m. at the PediaPlex facility at 2425 E. Southlake Boulevard, Southlake, TX. Children are encouraged to wear their favorite costume and bring a bag for trick-or-treating! Stop by and learn more about PediaPlex and its commitment to supporting children and their families.
About:
PediaPlex is an all-inclusive diagnostic and therapeutic clinic located in Southlake, Texas. It offers comprehensive services to children with a variety of disorders ranging from autism, ADHD, and sensory-motor problems to learning disabilities, mental health disorders, and developmental delays. Therapy services include occupational therapy, speech therapy, play therapy, psychology testing, cognitive and academic assessments, counseling and ABA therapy. The multidisciplinary team evaluates and diagnoses children to determine their individual strengths and areas of need and then creates a collaborative treatment plan to address these concerns. All services are offered in one convenient location.